On Sunday, I contacted Patterson Fruit Farm and inquired about U-Pick peaches for this year.  I was informed that there was not enough peaches for pick your own this year.  I was sad since I had such a good time picking them there last year.  So, I went through my list of farms and remembered that Burnham Orchards was having U-Pick peaches.  The kids and I had plans to meet friends at a west side farmers' market, so we decided the extra 50 minute drive wouldn't be bad to head over to the orchard.  Usually, we drive about 45 minutes or less for U-Pick.  I've wanted to visit Burnham for a while now.  They are one of the few farms in the area that usually have U-Pick sweet cherries.
We stopped at the market to get the picking location.  It turns out that our friends approached the orchard from a different direction, so it took a few minutes for all of us to meet up at the right picking location.  We ended up picking off Wright Rd and 113.  We were there right before picking was supposed to start for the day.  The hours were 12-4 and it was about 5 til when we arrived.  The staff was a bit disorganized, but everything was quickly remedied.  It wasn't fun to find out that we'd have to load the peaches in our car and drive back to the market to have them weighed.  I'm used to paying in the field where I pick.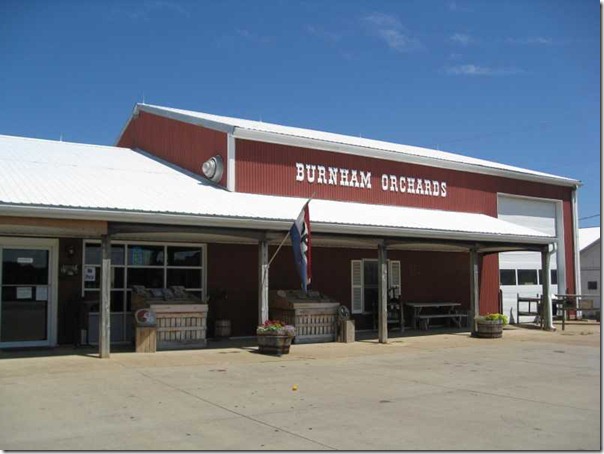 Soon enough, we were surrounded by peach trees.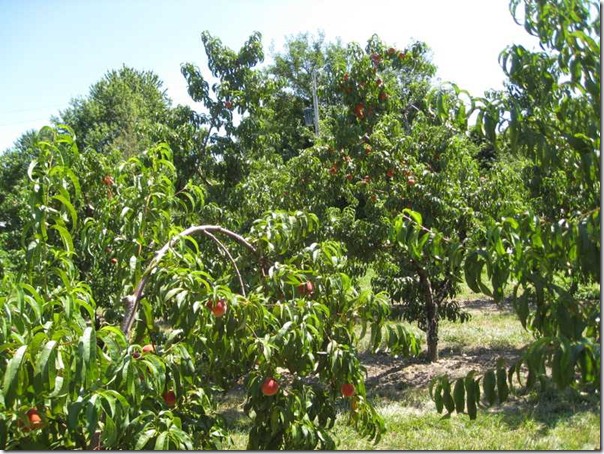 Sally loved carrying her own basket.  Unfortunately, I wasn't paying attention and she would pick a peach, take a bite and then put it in her basket.  She did this 8 times before I caught her.  I bought the peaches.
Nick and Sally both taste tested.  The peaches weren't quite ripe, but it didn't stop them from eating one.
It was a rare picking day.  We had all three of us and a friend to take a photo.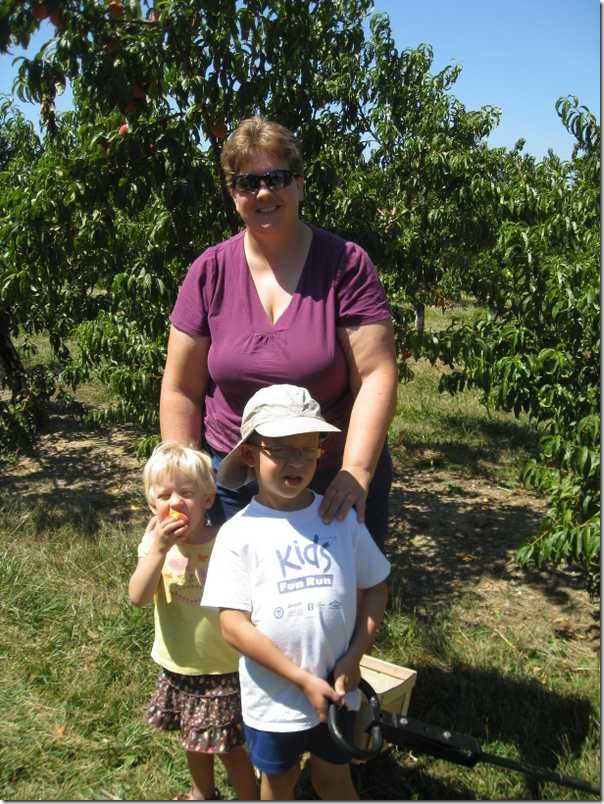 Nick loved pulling the wagon.  We ended up with 3 big baskets full.  All together, we picked about 60 pounds of peaches.  They were 90 cents a pound when you bought 24 pounds or more.
I canned our first of them today.  I ended up with 5 quarts.  The rest didn't seem quite ripe enough.  I'm hopefully that I can do another batch tomorrow and then the last of them on Friday.  Unfortunately, we won't be able to pick more this year, but we still may procure some additional peaches for canning.