Today, the NEO Foodies group enjoyed an event at Community Greenhouse Partners.  My kids and I go to farms all of the time, but we had never visited an urban farm.  A tour, kids pizza class, gazpacho demo and potluck were on the schedule.
The site is over 2 acres and occupies the grounds of a former church in the middle of the city.
This is definitely a place where nothing is wasted.  The boxes on the left were built out of wood that was salvaged from a nearby construction site.
Tim Smith welcomed us and introduced us to the ground, concept and history.  We began our tour by checking out the chicken tractor that is under construction.  They hope to be keeping chickens soon.
We moved to the front of the property where Tim talked about mixing up the crops and the benefits.  On the right, a YELLOW cucumber grows.
These garden socks are full of compost.  We spied watermelon and other deliciousness growing.
One of the local tree trimming companies brings the mulch by.  It's a win win for everyone.  The company doesn't have to haul it away, The CGP can use it for mulching and fuel.  The kids have a mountain to climb when they come visit.  On the other side of the church, 3 more hoop houses.
Kathryn helped Nick and Sally pick some tomatoes for their pizza and showed them around the garden.
Back at the home base, Chef Robin of Cooking with Care gave us a gazpacho demonstration.
Outside, the kids were making pizzas.  Nick loves his topped with fresh peppers, tomatoes and cheese.
Everyone pitched in to help with the pizzas.  Some of the adults made them too.
Judi was ultra prepared and great with the kids.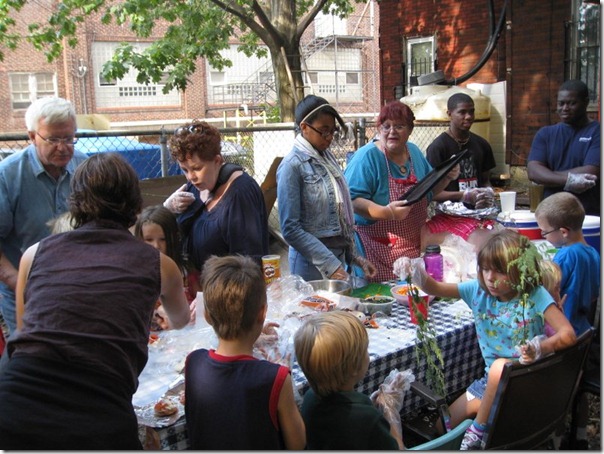 We enjoyed the potluck dinner and then said our goodbyes.  Nick asked if we could go back tomorrow.  We stopped at our community garden to harvest tomatoes and water.  Sally fell asleep before we pulled in the drive.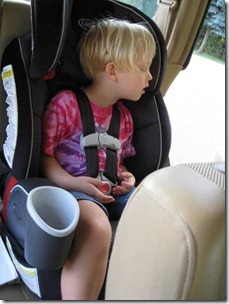 We had a great time and can't wait for the next "kid friendly" NEO Foodies event.