We picked up our share at Whole Foods today.  Turns out they are in the middle of a remodel of the whole store.  It was a mess.  Usually, I can easily pick up two or three things to round out our needs, but not today.  There were several things on my list that weren't worth hunting down.  I'm hoping that we get fruit in our bags again soon.  I know apples were hit hard this year, but I still hope we see some soon.
Here's a shot of what we received this week: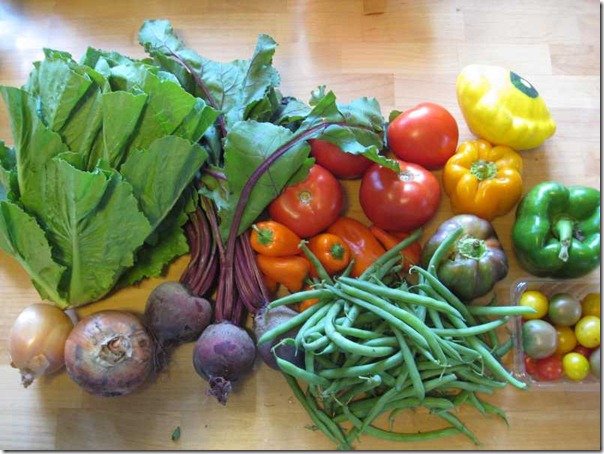 Mixed cherry tomatoes, onions
Lettuce, mixed bell peppers
Green beans, yummy orange snacking peppers
Slicing tomatoes, patty pan squash
Beets with lovely green tops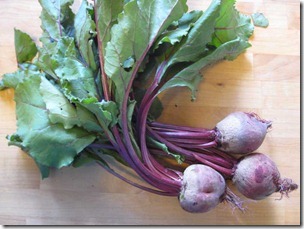 With the holiday weekend approaching and Nick starting preschool soon, we are taking a trip this weekend.  So, all of our food needs to be packed, preserved or eaten.  We used two peppers, one tomato and one onion in tonight's dinner.  I sautéed them to go with some Italian sausages that I had thawed today.  The other pepper was rotten and needed to be pitched.  I haven't received anything bad in a while, but it happens occasionally.
I'm going to just freeze the slicing tomatoes.  The cherry tomatoes will be good snacking for Stephen and Nick.  We'll have salad using the lettuce for the next couple of days.  The snacking peppers probably will be eaten tomorrow.  They look delicious.  The green beans will make a nice side dish for lunch tomorrow.  I have some beets in the fridge already, and I'm expecting some more tomorrow.  I suspect they'll all be made into Harvard beets tomorrow night.  Efficiency this week is especially important.  I'll cook the greens with some eggs for breakfast or lunch tomorrow or Thursday.  I'll probably just shred and freeze the squash.
I'm feeling lazy in the cooking department.  Some weeks, there is just too much going on to cook lots of recipes.  Lately, dinners have been quickly thrown together without much of a plan.  I am looking forward to more of a routine in upcoming weeks and the opportunity to spend a bit more quality time in the kitchen.