No, I didn't recently go to Israel to pick onions, but as you may recall, my friend recently moved there.  She sent me this post to share about onion picking.  She's also compiling a "foodie list" of things for me to see and do when I have the opportunity to visit.
---
Today my family and I headed out to a field about an hour from us to pick onions. We weren't picking for us, we were picking for a charity group that gleans fields that farmers have already picked in order to donate the food to food pantries.  The field we went to was in Nahalal (in Israel), and while it may be far from where you are, like I said, it only happens to be an hour from us. There were about 31 of us, so the crowd was sizable.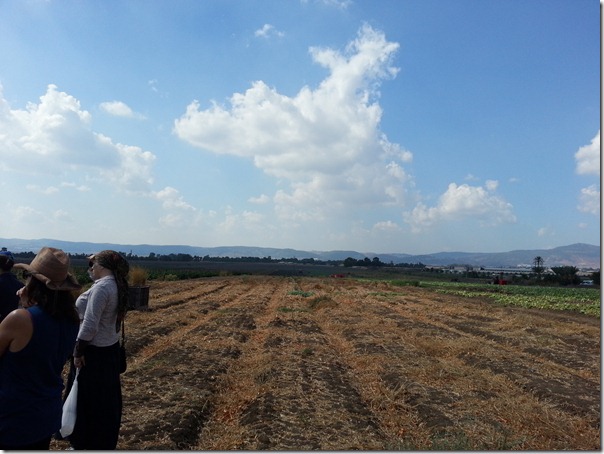 The directions were pretty simple: pick a row, pick every onion that is not rotten or too small, remove as much of the paper as you can, throw it in a bucket. They collected all the buckets and as a group we ended up filling two large crates (maybe six feet by six feet by 4 feet, but it was a guess).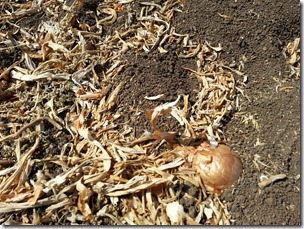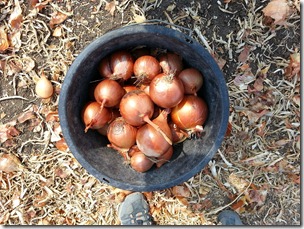 We started picking around 9 a.m. when it wasn't too hot, and kept going until 11:15 a.m. (when it was VERY HOT). The group stopped for fruit and water, and then everyone else went back to picking. My kids were done by then, and a friend of my husband who lives on the next kibbutz over heard we were around and stopped by to say hi. The group picked until about 12:15 p.m. and then everyone was done and ready to go. By the time we left a group of army recruits from the base nearby had shown up to finish the field, along with a bunch of employees from a corporate bank. They get a lot of volunteers, which is great, they have a lot of fields to cover.
Afterwards we took the bus to Tsfat, instead of home, and enjoyed dinner with a beautiful view of the Kinneret. A good day all around.  It is 7:00 p.m. as I type this and I still smell like onions. I'd never picked onions before, so it was definitely an experience. Next year I hope we get to pick something a bit more tasty and a little less smelly.
---
Thanks for sharing!  I can't wait to hear about more adventures.