The warm weather this week made it a perfect evening for a trip to the Cleveland Museum of Natural History. Nick brought a friend from school this time. They enjoyed some time in the new whale exhibit before I arrived. Then it was time for a fall dinner at the picnic tables outside. (Don't forget to brush the leaves off the table!)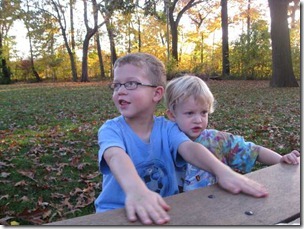 After dinner, Nick found the boulders nearby an irresistible challenge. Sally spent some time hanging out with Steggie the stegosaurus.
We went back in, and after a whirlwind tour of the dinosaur hall and the Perkins Wildlife Center, spent the rest of our evening at the museum in the basement, at the Smead Discovery Center. It's a perpetual favorite.
All in all, it was a fine family evening out.