It's June and we have just decided to plant a garden.  Last week, I was reading the Mayfield-Hillcrest Patch, and I read about a community garden in Highland Heights.  We had been looking for a community garden to try out.  Our yard doesn't have enough sun and our growing has been complicated by the deer population as well.
Saturday, we went up to the garden area to check it out.  There are 36 8'x8' plots, including 2 that are handicap accessible (the higher boxes on the right in the photo).  Plots are $18.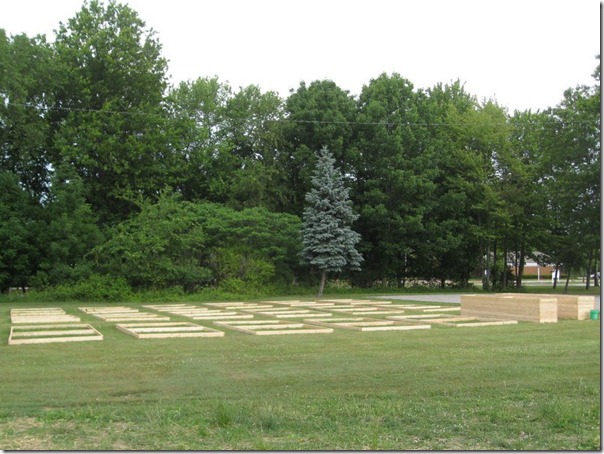 The kids immediately fell in love with the idea of planting a garden.  They had a great time checking out the boxes.
Yesterday, I met up with a representative from the garden club to sign up and get an information packet.  While I waited, I took a few photos of the gazebo and the flowers.
It's the first year for the garden and there is lots to figure out, but we're going to give it a try.  We are following the square foot gardening method, figured out a plan and went shopping for plants and seeds.
After dinner last night, we rode our bikes up to the garden and showed Nick and Sally our plots.  It was a nice ride.  It's just under 5 miles round trip and for the most part, we can avoid busy roads.
The garden officially opens for planting on Saturday.  Hopefully, we'll have dirt and fencing at the site by then.