Today was week number 9 for our Fresh Fork CSA.  Robert who works at the truck was back today.  He seems to be going better.  It was nice and smooth to have him in his usual position.  There was only one person ahead of us and everything was smooth at pick up.
As usual, we received our list of contents on Tuesday.  It's nice to know what we have to work with between our CSAs by Tuesday night.
Here's what we were expecting:
Small CSA:
1 package Mild Italian Sausage links, 4 to a pack
1.5 lbs apricots
1.5 lbs Red Haven peaches
1 dozen pasture raised chicken eggs
6 ears Mira 301 Super Sweet corn
1 candy onion
1 head leaf lettuce
1 lb green beans
1 bunch kale, either Curly or Black Tuscan
Here's a group shot:
Apparently, the Italian sausage is really good.  I don't think we've had it yet.  Always happy to see peaches.
We still have onions to chop and freeze and the corn is already gone.
We were almost out of lettuce, so I see a couple of salads in our future.  I don't think I've ever had fresh apricots and certainly not local ones.  I'm looking forward to having one at breakfast.
Curly kale might make for another batch of kale chips,  The last batch was ok, but I've read a few other variations lately and may have to experiment again this weekend.  I'm in love with local eggs and just used our last two yesterday, so these were especially nice to get.
Everyone in our house likes green beans.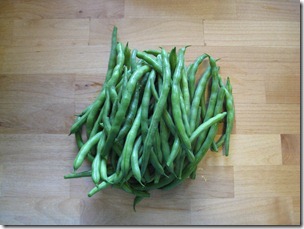 In addition to our small, we purchased 2 packages of chicken brats.  These were $7 each.  They were amazing when we had them in our box a few weeks back.  We're having company next weekend and I stuck these in the freezer for grilling.  We also paid for our cream cheese ($5) that we picked up 2 weeks ago.
I'm happy that we had a week off of squash and tomatoes.  I still have some to use up from our Tuesday CSA pickup.  Next week we are "on vacation" from Fresh Fork and I hope that gives us a little extra time to regroup and make sure we are caught up in the fridge.