Today was the 9th pick up for the Geauga Family Farms CSA.  It's hard to believe that we are almost half way through the season.  Today's bounty was heavy!  The season's first watermelons have arrived.
Here's a group photo of what we received: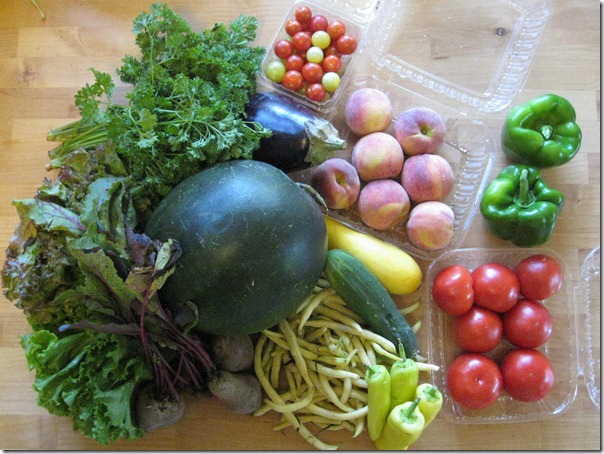 Let's take a closer look.
Cherry tomatoes, slicing tomatoes
Peaches, beets
Green peppers, hot peppers
Eggplant, yellow squash
Cucumber, lettuce
Lettuce, yellow wax beans
Parsley, watermelon
I think we have entered my favorite part of the season.  I love melons!  I was glad to see lettuce since we were almost out.  I've put my parsley in water.  I think some parsley potatoes or salad dressing may be in order.  The squash, cucumber and peppers will probably go into a wheat or rye berry cold salad for dinner tomorrow night.  We eat at Wade Oval near the Cleveland Museum of Natural History and it's challenging to make cold CSA food.  I'm getting better as the season progresses.
I'm going to remove the skins from the peaches, slice and freeze them for oatmeal.  One of my favorite ways to have oatmeal is with peaches.  I'll be sure to save a couple of peaches for Thursday.  I'm expecting basil in my CSA pick on Thursday and I want to try my version of this dressing recipe from The Chubby Cook. I'm going to make the same recipe, but use an extra peach.  I sampled it at Whole Foods on Sunday and it was tasty.
I haven't found any great ways to use hot peppers since I don't care for spicy dishes and I like the kids to be able to eat anything that I prepare.  Usually, they get chopped and frozen and I use them sparingly as I make taco meat, pulled pork and chili throughout the winter.
I usually make Harvard beets whenever we get beets.  At dinner tonight, my son was content to eat beets and watermelon for dinner.  That made me very happy!
All in all, it should be a great week!