Originally, we were going to be "on vacation" from week 12 of our Fresh Fork CSA.  But, our plans changed and we were able to cancel our vacation and pick up our share.  Next, I'll need to place an extra order to use the funds from our week 10 vacation.
Here's what we were expecting to receive this week:
Small CSA:
1 pint blackberries
1 quart yogurt
1 lb. nitrate free bacon from Berkshire hogs
Approx. 1.5 lbs.slicing tomatoes
1 head leaf lettuce
3 lbs. new potatoes, red norland or yukon gold variety
1 bunch swiss chard or 1 bunch chiogga beets (candy cane striped beets)
1 pint heirloom cherry tomatoes
Approx. 1.5 lbs. peaches
Here's a group shot: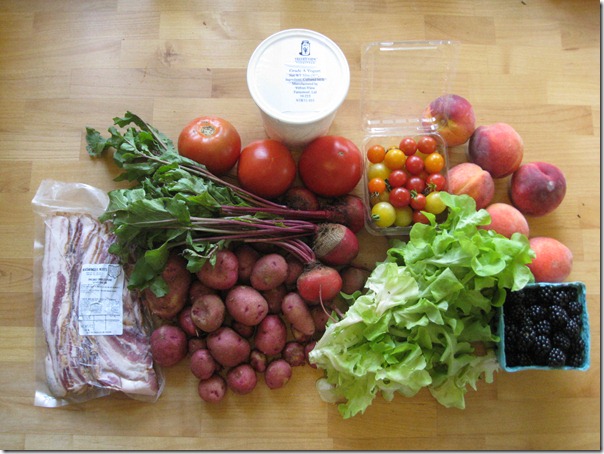 We picked 1 bushel of tomatoes today, so these will get added to that bounty for canning.  This is a "fluffy" variety of lettuce and looks extra fresh.  I can't wait to have it on a salad tomorrow.
When I left for Mom's Night Out, Nick was asking for more blackberries.  I haven't checked the fridge to see if they made it past dinner.  This yogurt is turning into a family favorite.  And, we had been having cottage cheese this week, so it's nice to have more yogurt in the house.  We've been sweetening it up with a bit of homemade jam.  I also use it in my overnight oats.
I just finished processing my peaches from the peck that we picked on Saturday.  I still have to make the jam with the peaches that I skinned this morning.  These peaches will soften up in a day or two and be great as a snack or in my oatmeal.  We are stocked with cherry tomatoes at the moment.  We got a pint at our pick up on Tuesday and it's one of the items that has survived in our garden.  I'm not a fan of the texture of raw tomatoes, but Nick and my husband both like them.  I just need to remember to serve them!
We haven't really had potatoes much lately.  I can't decide between mashed potatoes to go with some Fresh Fork pork that is  thawing in the fridge or German Potato Salad.  We have some other beets in the fridge, so I will combine them and probably make our standard Harvard Beets.  I think there was a choice between beets and Swiss Chard and I asked for beets so we could make a decent amount for a dinner side one night.
Lastly, we got bacon.  So, this week was themed BLTs, but I'm not sure if they will appear on our menu or not.  I did recently read about cooking bacon in the over on a rack and I just might have to try that with this bacon.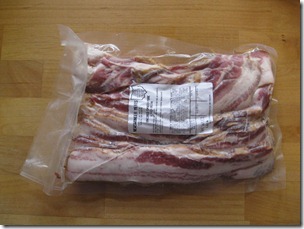 I think this is an easy week for us and that the items are easy to use and store.  It's a good thing because we have a few other items from Tuesday to use up and have a busy weekend coming up.