Pick up #12 for the Geauga Family Farms CSA was today.  We pick up at our local Whole Foods.  Nick calls it the little Whole Foods because it's so much smaller than the Cedar Location and doesn't have a waterfall.
Today's box was overflowing!
Here's what we received: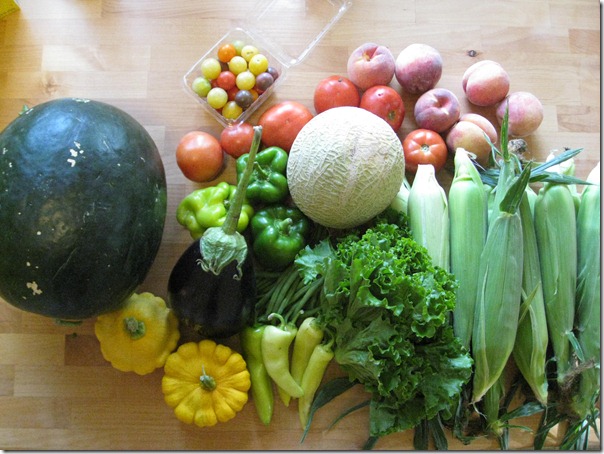 Let's take a closer look.
Green beans, watermelon (hmmm.. these photos are not to scale)
Lettuce, eggplant
Cherry tomatoes, slicing tomatoes
Peaches, bell peppers
Cantaloupe, dozen sweet corn
Hot peppers, patty pan squash
We got 3 fruits again this week.  In our house that is a good thing.  I actually used frozen peaches in today's oatmeal, so I am excited for the peaches.  We have lots of melon since we got extras in our other CSA on Thursday, but we are eating it at a good clip so I don't think we'll have a problem.  Our biggest challenge is having to take the seeds out of the watermelon for our 22 month old daughter.
We ate 1/2 the corn for dinner tonight and we are getting another 1/2 dozen on Thursday.  I'll probably cook and take the rest of this batch off of the cobs for a wheat berry, corn, bean salad of sorts.  We need to pack dinner for our Wednesday outing at the Cleveland Museum of Natural History.
I'm going to chop and freeze the peppers.  I'm assuming the non-bell peppers are hot.  They seem to always be hot and I'm not taking chances with them.  The bell peppers will go into tomato sauce.  I'll save the hot ones for chili and salsa.
I just read a blog post about mini lasagnas that were made in muffin tins.  I may use the eggplant and squash for my own version of that.
The remaining few items will easily be eaten as part of our meals.  We need to stay on top of our game this week since we have several meals planned out over the holiday weekend.  Friday, I need to blanch/chop/freeze anything that we haven't used so we don't have waste.