We picked up our Fresh Fork CSA today.  In addition to our regular "small", we also picked up the items from our vacation credit.  We were off week 10.
Here's what we were expecting to receive this week:
Small CSA:
1 yellow doll watermelon
2 ct. eggplant, some mixed colors may be included
1 quart hot Hungarian peppers
1 lb. clover honey
1 medium cantaloupe
Approx. 1 lb. heirloom tomatoes (about 1 large or 2 small)
2 summer squash
1 pint mixed baby sweet peppers
Quarter Peck Golden Supreme apples (about 5 to 6 apples, very crisp, yellow apple)
Approx. 1 lb. slicing tomatoes
Here's a group shot: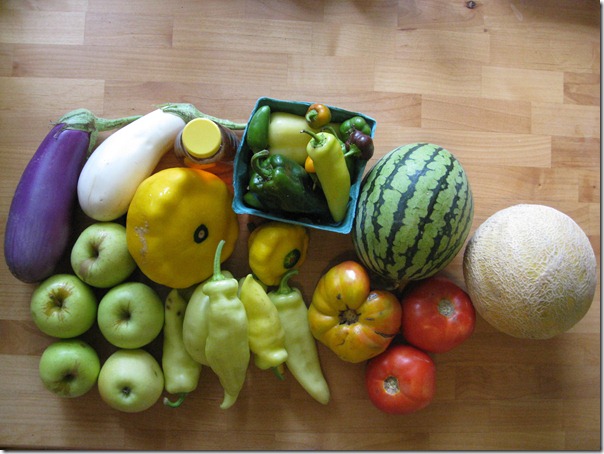 I'm going to make my favorite cole slaw recipe and it uses a couple of apples.  The rest will probably go into my oatmeal and/or be made into a quick applesauce for the kids.  We also got eggplant on Tuesday, so I think I'll be making a veggie lasagna tomorrow.
I'm not sure about the squash.  If it doesn't end up in the lasagna, we'll probably grill it.  All of the tomatoes are going into sauce since I have a stock of them from Tuesday's CSA as well.
The sweet peppers will get added to my sauce.  I'm never sure what to do with the hot ones.  I don't like to make things that aren't kid friendly (and Lyn friendly).
I don't cook with refined sugar, so we use lots of honey.  I'm excited to try the clover honey that we received.
Yum!  We are certainly enjoying our local melon this year.  I'm curious to try the watermelon since it's "yellow" and I'm not sure what to expect.
In addition to our share above, we had $25 to spend on items from the on-line store since we were on a planned vacation a couple of weeks back.  I decided on lettuce ($2.75), 2 cantaloupes ($3.60 ea.), 2 packages of Chorizo sausage ($12.40) and 2 quarts of yogurt ($9.90).  The total was $28.65, so I paid Robert $3.65 at the truck.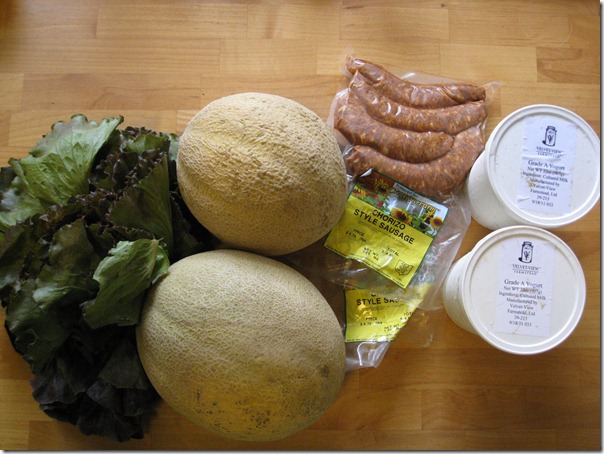 It was fun to stock up on Chorizo and yogurt since we were out of both.  Neither of my CSAs received lettuce this week, so I was glad to have it as well.  I love the vacation flexibility with Fresh Fork!