Last week, I was still on vacation for week 4, so I didn't do a pick up.  My friend Kelly was nice enough to send me a few photos.  I was jealous when I received them on my phone, even though I was at the beach.  I love her photos!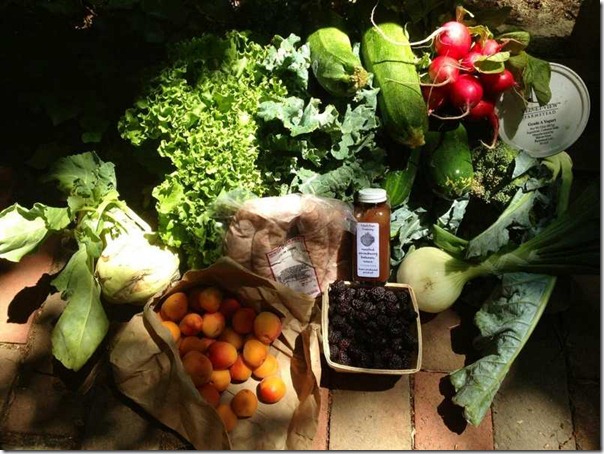 Here's the list of items for the week:
1 quart of yogurt
1 pt of black raspberries
Assorted tree fruit
1 package Italian Sausage links, 1.25 lbs.
2 ct zucchini
1 bunch radishes
1 head green leaf lettuce
1 bunch kale
1 head kohlrabi
1 red bulb onion
1.5 lbs hoop house tomatoes
2 ct cucumbers
1 head broccoli or cauliflower, whichever comes in
1 jar strawberry balsamic sauce made from leftover week 1 strawberries
The highlights were the fruit.  She received apricots, plums as an add on, raspberries, and Clark Pope Catering's Roasted Strawberry Balsamic Sauce.  Kelly mentioned that the plum were like heaven in a paper bag.  Even though I wasn't here last week, I was able to get a bottle of the sauce.  I'm excited to try it out.
Now onto this week's bag!
It was 95 degrees when we picked up our bag.  This has been one hot day!  I was glad to quickly get everything home and unloaded.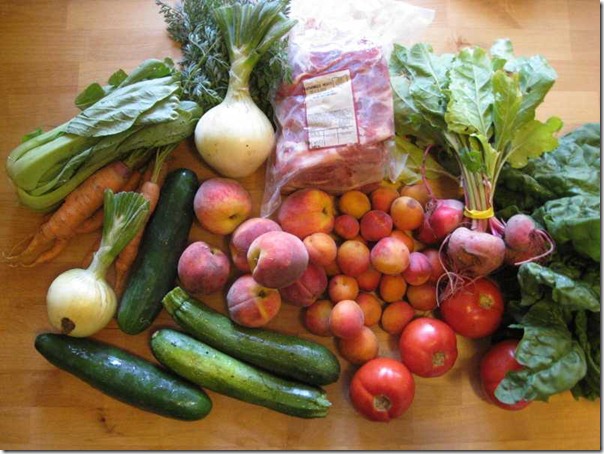 Here's what we were expecting to receive:
1 whole chicken or pork roast
1 bunch beets
2 bulb onions
1 bunch carrots or 1 head kohlrabi
Approx. 2# tomatoes
1 baby bok choy
2 lbs. peaches
1 bunch spinach
1 lb. garlic scape and black pepper linguini
2 lbs. apricots
2 ct. cucumbers
2 ct. zucchini
We love the spinach.  It's quite versatile.  We already used some in our white sauce tonight.  I'm not a big tomato person.  I think they are "guishy".  I'm such a texture eater.  I'm not sure if I'll ever like them.  Some other Fresh Fork CSA folks were talking about having a tomato tasting party.  I might be swayed to participate if that were to occur.  For now, these will be eaten by Stephen and Nick or I'll use them in sauce.
I have a total of 4 zucchini and I am making fritters for lunch tomorrow.  I'm not sure why we got extra cucumbers, but they are great for snacking and salads.  Since we don't have any lettuce at the moment, I suspect these will become snacks for the weekend.  I may try my hand at a quick relish.
Some of the onion will go into our pulled pork and coleslaw recipes.  The rest will be chopped and frozen for future use.  We ate almost all of the carrots at dinner.  The leftover ones will be gone at lunch tomorrow.
Our apricots aren't going to last long.  They are very ripe.  I'm thinking of making smoothies with them tomorrow since it's going to be another scorcher.  I contemplated an apricot dessert, but I'm not sure I want to turn on the oven.  Maybe, I'll get creative.  We've been enjoying peaches in our oatmeal each morning.  With 4 of us, these won't last long.
Bok choy always stumps me.  I just don't have a great go to recipe for it.  It usually just ends up in a stir fry for Stephen.  I'm going to make pulled pork with the roast tomorrow.  I am going to put the crock pot in the basement so our whole house doesn't heat up while it cooks.
We're going to grill the beets this week.  We have a kohlrabi to use as well.  We didn't get our pasta when we picked up our bag.  Since I was out anyway, I stopped back to get it on our way home from the spray ground.  It went straight to boiling water for dinner and had already missed it's photo opportunity.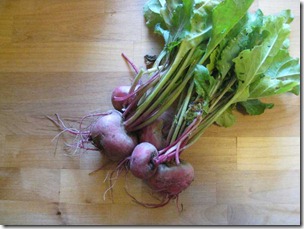 I'm not going to say that every CSA week is easy, but I like feeling like I finally have the hang of it.  I'm looking forward to eating fresh and local this weekend.