Today, we visited the Coit Road Farmers' Market for the first time.  We really didn't know what to expect.  I had heard that it was small, indoor and had a cooking class scheduled for 11AM today.
I followed my easy directions and before I knew it we were at the market.  It was hard to miss.  There were just a few produce stands.  This time of year, the produce stands for this market and just getting started.  We were happy to see Secor's from Perry.  We really like to U-Pick there, so I was familiar with them.  There were some booths with baked goods and other odd ball items, too.  We ended up buying a watermelon, but I questioned to myself if that was grown locally since I think it's a bit early and I haven't seen any other watermelon yet.  But, when the kids want watermelon, I try not to turn them down.
Nick and Sally were enamored with the chicken coops.  I don't think we are up for chickens at our house, but the kids would love it!
A new coop was delivered while we were there.  Here's a photo of the kitchen area that was going to be the scene for the cooking class.
In addition to the coops, there were also hives.  All of the wood products were fascinating.  Once it was time for the cooking class, Nick and Sally were given aprons to wear.  I think they are adorable.
Miss Pat gave a demonstration on how to make pasta salad.  She used cucumber, garlic and tomato from the market.  She tossed them with pasta and some dressing.  We were a little disappointed in the class, since we had seen photos of the last class, we were expecting a hands on class.  Being a demo, it was hard to keep the attention of the kids.
Sally was also in a "mood" which didn't help.  I think she was just hungry and tired.  After the demo, the kids were excited when they found out that they could keep the aprons.  And, Miss Pat gave Nick his own knife.  Once we finished at the class, we stopped to let Sally buy some corn.
She carefully picked out 5 ears and we were on our way.  Then, tonight at dinner, both kids really wanted to help cook.  We cook together at home often, but they really were extra inspired today.  I think it was the aprons.  Oh, and Nick could not wait to use this knife.
I decided that we could make some simple tomato soup in the morning and he could cut up the tomato.  I nervously helped and watched him.  He had such a great time.
I definitely need to brush up on my knife skills if I am going to teach my 4 year old to use one.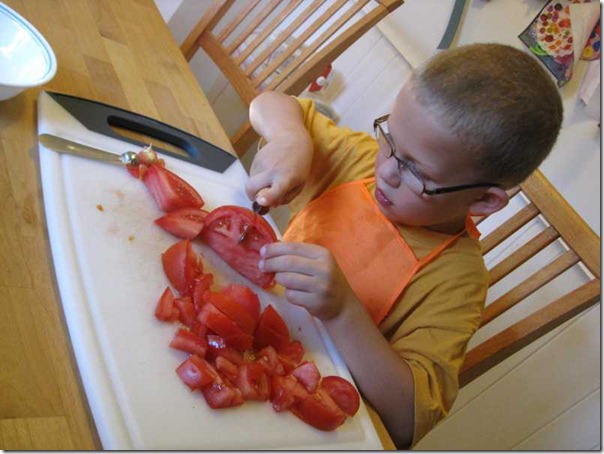 The first lesson was a success.  The tomato is chopped and no band aids were needed.  All in all, we had a nice day.  I think I'd stop by this market every now and then, but I don't think it will become my favorite.