This morning, Sally and I headed to Voytko Farms for blueberry picking after we dropped Nick off at camp.  The farm is easy to find and has a few signs along the way.  Once in the barn, there's a nice sign with information and usually an attendant around to help.  This year, berries are $1.75 a pound.
We met up with our friend Shayna.  Sally was super excited to see her.  Soon, we had some berries in our buckets.  No, Sally didn't pick those, she just modeled with the bucket for the photo.
I had Shayna take a photo of me picking.  This is a rare occurrence, since most of the time there aren't other adults in the patch with us.  We started to hear thunder and new it was going to rain.  Once it started sprinkling, we headed to the barn.  It was raining pretty hard buy the time we got back.
It was actually a welcome sight and I just hoped it was also raining in our garden.  Chuck runs the farm and had a computer with internet access in the barn.  He looked up the radar and said that there was no way the storm missed Mayfield Heights.  I was a soaked but happy camper.
With the rain, we ended up picking for 45 minutes.  I ended up with 2.5 pounds of berries and a nice outing with Sally and Shayna.  Since the berries were wet, I laid them on a paper towel on a cookie sheet to dry them out a bit before I froze them.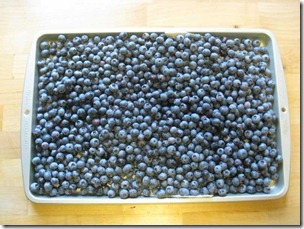 The picking was outstanding and I'd definitely suggest checking out the farm.  All of my berries came from just 2 bushes and I could have picked more.
Voytko Farms is located at 11391 Franks Road, Auburn Township, OH 44023