This week in our CSA, we received garlic scapes, tomatoes and Ohio City whole wheat linguini pasta.  This sauce was created to utilize these ingredients as well as some other items on hand.  I needed a sauce with some flavor since I was out of Parmigiano Reggiano cheese which I usually add to my Béchamel sauce.  I served this sauce on top of my linguini with a sprinkle of mozzarella cheese.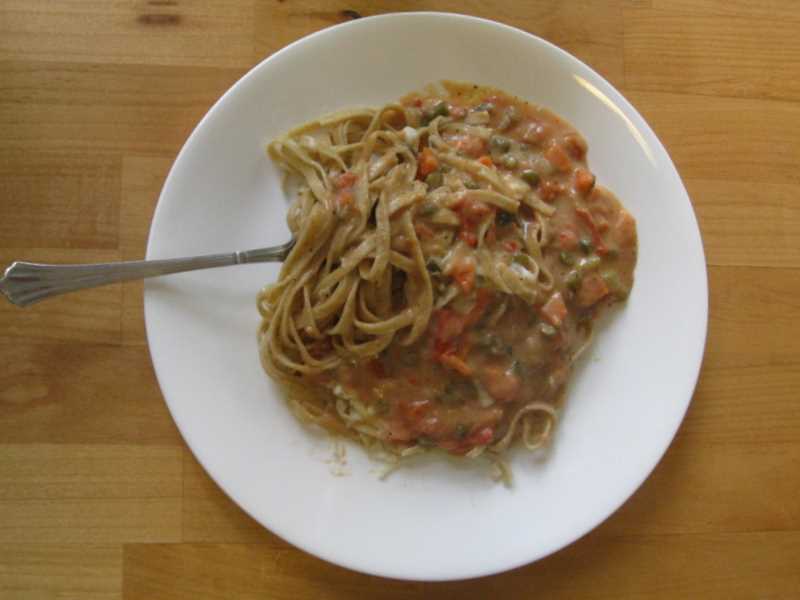 [print_this]
Recipe: Chunky Tomato Béchamel Sauce
Summary: All ingredients are approximate as I don't really measure much.
Ingredients
2 T butter
2 T whole wheat flour
1 cup skim milk
1 t black pepper
1 T olive oil
1 tomato, chopped with seed removed
1 carrot, chopped
2 garlic scapes, chopped
1 T Penzeys pizza seasoning
2 T Penzeys red and green bell pepper flakes
1/4 cup water
Instructions
Melt butter in a non-stick skillet.
Incorporate flour a small amount at a time to make a paste.
Add milk slowly and stir.
Continue to stir frequently until thickened.
Add black pepper.
In another pan, heat olive oil.
Add remaining ingredients.
Continue to cook until it looks like sauce, stirring occasionally.
Once thickened, combine with Béchamel sauce.
Serve over pasta with or without cheese.
Preparation time: 10 minute(s)
Cooking time: 20 minute(s)
Number of servings (yield): 4
[/print_this]