Last night, Stephen and I had an early Valentine's Day dinner at Fahrenheit restaurant.  Our first date was on February 14, 2004.  It's hard to believe that it's been 8 years.
I have been following some of the local chefs lately.  I really like Michael Symon and enjoyed seeing him at the Fabulous Food Show.  I've also caught a couple of episodes of The Chew.  Stephen and I both like The Iron Chef and attended the watch party at Noodlecat for Team Sawyer a couple of weeks ago.
So, naturally, I wanted to support Rocco Whalen and his accomplishments for losing over 100 pounds at the Fat Chef watch party last night.  Rocco is one of 12 chefs that are being featured on the Food Network's new show.
We arrived at the restaurant at 8PM for our dinner reservation.  We were seated in the far room where we've eaten for company parties before.  For the first 30 minutes or so, we were the only ones in the room.  It was like a private dining experience.  I had tomato bisque soup and lobster macaroni and cheese.  Both of them were heavenly.  I also really like their olive tapenade for the bread.  I must duplicate it at home soon.
As 9PM approached, there were more and more people around. I caught up with Crystal from Eat, Drink Cleveland and Julie from Wearing Mascara who were there for the watch party also.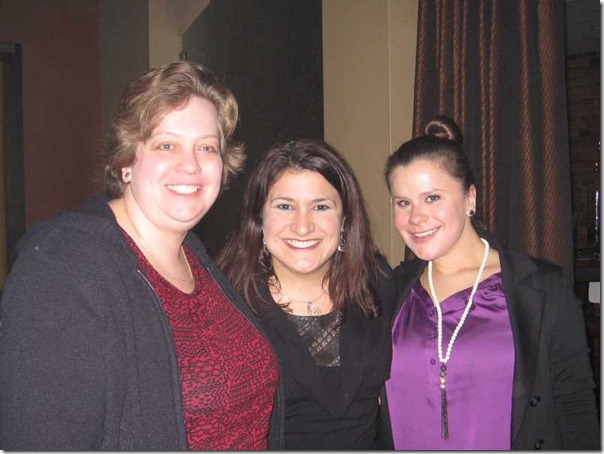 I thought the show was well done and did a good job of depicting the challenges of weight loss, schedules and consistently being around food.  Kim Gibson from the Cleveland are was also featured.  Cleveland was nicely represented.  I was a bit disappointed in the watch party itself.  Rocco never came into the other room (where we were sitting) to introduce himself or say hi.  He gave a short speech in the other room.  We couldn't hear it very well.  I'm sure he was with family and friends.  His TV star trainer Brett and local trainer Dan were both there as well.  Apparently, Brett surprised him by coming.  The watch party included an appetizer buffet.  We didn't partake since we had dinner right before.  The restaurant was packed and there was lots of cheering for Rocco during all of the commercial breaks.  In total, he lost 25% of his weight for the show and is still working hard to get to his goal.
I wanted to say hi and get a photo at the end of the party, but Rocco was mobbed and we were beat, so we headed home.  We were up past midnight, which is way too late for a work night.
I think we are done with watch parties for a while, but my list of restaurants to try out in the Cleveland area keeps growing.