Today was the second pick up for the Geauga Family Farms CSA.  As usual, we had no idea what we would receive.  A newsletter comes out that gives us an idea of what we may receive, but I usually don't see it before our pickup.  Today was the second pick up and also the second time the truck was late.  Both times, it arrived before we did, so we haven't had to wait for them.  I'm not sure what will happen next week since we want to come to the farm visit.  Maybe I'll enlist some assistance from my husband.  Even with an on-time truck arriving at Whole Foods by 4pm, it will be tough to pick up, store and get to the farm by 6pm.
Here's what we received: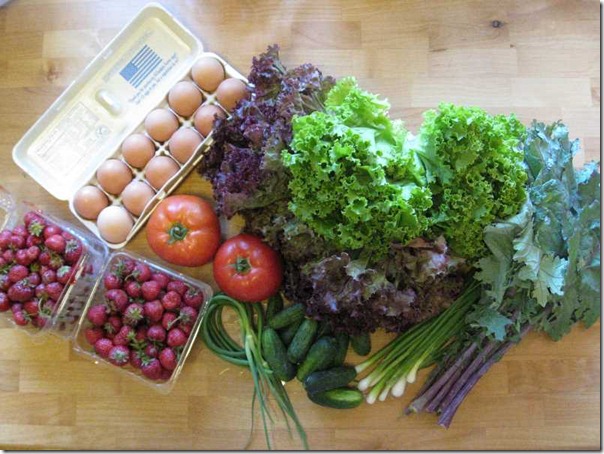 Let's take a closer look.
1 bunch of kale, 2 containers of strawberries
2 tomatoes, 1 dozen eggs
garlic scapes, green onions
pickling cucumbers, lots of lettuce (3 bags with 4 heads total)
Here's our plan of attack:
This week, we plan to have several salads with the lettuce.  I've been making spelt and quinoa and also using beans in some salads.  I'll pickle the cucumbers.  I'm glad I stocked up on the spices for them.  I'll need to double check our vinegar stock.  Some of the onions and garlic scape will be used in a batch of taco filling and the rest will be used in a sauté with mushrooms for the top of burgers or chopped and frozen.  There aren't too many of them, so that might all got in the taco filling.  The tomatoes will go in the taco filling also.  I've been making baked oatmeal, scrambled eggs and hard boiled eggs so the eggs have been easy to use in a timely fashion.  Also, they have a long shelf life.  We just picked some strawberries and made jam today, so these will most likely get eaten.  If we feel like we have too many, we'll make some strawberry ice cream or freeze them for later.
So, I'm left without a plan for kale.  It's an item that we only received twice last year, and I don't have a "go to" dish in mind.  Some quick searching in Google gave me lots of ideas.  Now, I have to think about it.  We have plans to eat dinner away from home Wednesday and Thursday , so kale will have to be lunch for us one day or for dinner on Friday.  I'm leaning toward steaming it with vinegar, garlic scapes and green onion.
Update on last week:
Since the bread was opened for a snack on the way home, Nick, Sally and my husband had no trouble making sure it was eaten.  The bok choy went into an Asian tofu stir fry along with some of the garlic scapes and green onions.  The eggs were used in regular cooking and the cucumber and lettuce were used in salads.  Some of the strawberries were eaten and the rest went with some others we had to make jam.  The rest of the green onions and garlic scapes went into a Mexican filling for salad.