Today was the 4th pick up for the Fresh Fork CSA.  We were expecting the following items.
Small CSA:
1 package chicken bratwursts (1.25 lb)
1 bunch garlic scapes
Approx 1.5 lb tomatoes
1 quart strawberries
1 bunch green onions
1 bunch spinach
1 head leaf lettuce
2 ct zucchini or yellow squash
4 oz tub fresh chevre goat cheese
Here is what we received.
So, our cheese was different, but it should be tasty.  And we ended up with one of each for the squash.  I could tell that strawberry season was ending as they aren't in the best shape.  It's another yummy week.
Also, we bought 2 bags of the corn chips that were included a couple of weeks ago.  I have taco salad on the menu and these are delicious.  They were $3 each – $6.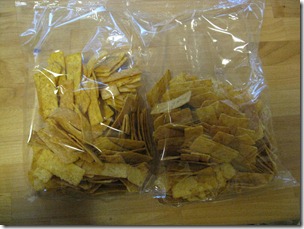 We did pretty good with last week's items.  I haven't really thought about the new batch.