Today was the 7th pick up for the Fresh Fork CSA.  It's hard to believe we're 1/3 through the season already.  As far as CSAs go, we've been receiving many familiar and easy to use items this year.  Here's the list of what we were expecting today.
Small CSA:
1 lb green beans
1 bunch cilantro (last week we substituted green onions, this week it will be cilantro)
2 ct zucchini
2 ct squash
1 whole pasture raised chicken
1 head leaf lettuce
1 pint blueberries
Approx 1.5 lbs cling peaches
Approx 1.5 lbs slicing tomatoes
Here's what we received: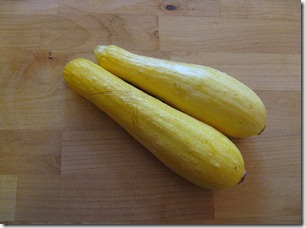 There was a problem with the chicken order this week.  Apparently, they don't fair well with thunderstorms.  One of the farms lost a bunch of them this week.  So, we had the option of a whole chicken or a roast.  We had a chicken thawing in the fridge already, so we opted for the roast.  Also, last week, we were shorted our zucchini, so we have 4 this week to make up for it.
The pint of blueberries seems really small to us.  Lately, we've been picking them by the quart or even gallon.  Everyone in our house loves blueberries, so these will probably make it until breakfast tomorrow before they are gone.
I read a recipe for zucchini pizza dough the other day. I'm going to try it out this weekend. I'll write it up if it turns out well.
We picked up a container of local cream cheese while we were at the truck.  I don't know how much it is, but I'll let you know when I pay for it next week.  It was offered as part of the large package this week and will be for sale regularly when we pick up.  Robert wasn't sure of the price, so we'll settle up next week.