Geauga Family Farms CSA is offering an egg share for the next 4 months.  Apparently, the hens that were raised in anticipation for the winter CSA are finally up to full production.  So, they had an excess of eggs and wanted to do an egg share.  We didn't really need an egg share, but since there was a local (Cleveland Heights) delivery available, we ordered some extras.  We picked up our goods yesterday in the midst of celebrating Nick's birthday.
GFF was offering a $10 produce bag.  I had no idea what we might get.
Here's a photo of our bag contents: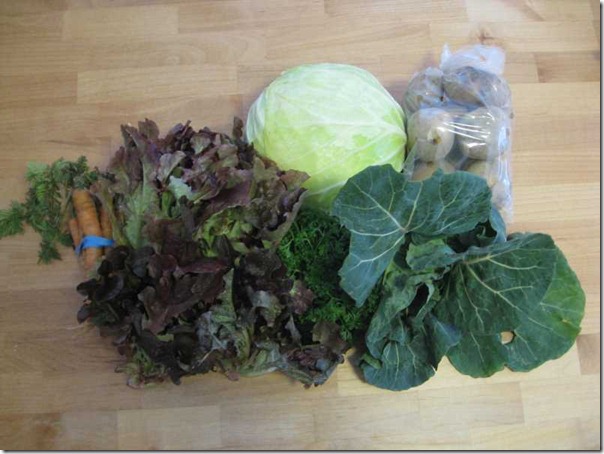 Carrots, lettuce, parsley, cabbage, potatoes, and I believe collard greens.  I have to say that I wasn't overly impressed.  The lettuce and cabbage were frozen.  I cleaned the lettuce and put in in our greens container.  I didn't try it out yet.  The outer couple of layers of cabbage were also frozen.  I haven't tried to cut into it yet.  You can see the frozen green in the photo.  The carrots were the best we've had, but it was only enough for each of us to have a couple of bites.  Parsley is hard for us to use.  We usually make tabouli, but we don't have the other ingredients for it.  I think I'm going to try to make chimmichurri sauce.  I'm glad I tried the grab bag, but I'm not sure I'd order it again.
The honey and maple syrup were the main reasons for our order.  I've become picky with my honey.  I really like the wildflower honey from Schmidt Family Farms and the Miller's Country Jam honey.  The Miller's Jam is available through GFF, so I ordered it.  It was $5 a pound and we got 4 pounds.  I also ordered a quart of maple syrup for $14.  This is a good price for local maple syrup.  I'm excited for new production in March, but we were running really low. I picked up a dozen eggs for good measure.  They were $3.25.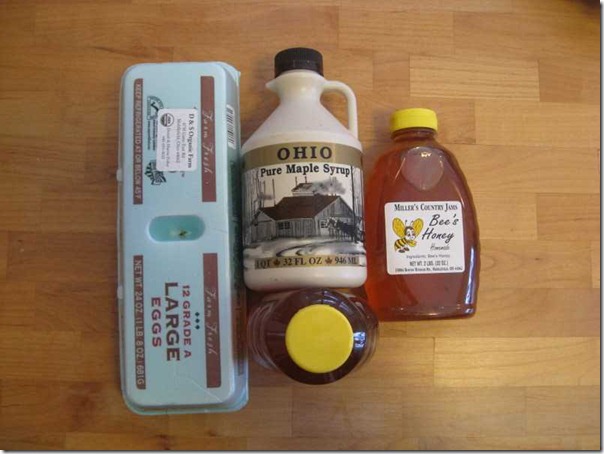 I'm not sure we'll place another extras order next month, but it's a nice option for us during the winter.  I'm excited for the summer produce season.