Today, we invited my parents up for a visit to Lake Farmpark.  It was a chilly and beautiful day.  My parents had never been to Lake Farmpark, so we had fun showing them around.
The first stop was the solar panel station just outside the main entrance.  Nick was happy to show grandma how it worked.  Nick and Sally both enjoyed the wagon ride.  No trip to Farmpark would be complete without a ride.
One of my favorite parts of visiting this time of year is all of the baby animals.  It seems that every time you visit, there are some newborns that are just a few days old.
After the barn visit we headed up to the Plant Science Building.  In honor of maple sugaring, there were a couple of crafts for the kids.
The staff is always so friendly and these volunteers were no exceptions.  Lori helped Nick and Sally with rubbings of plants and spider webs.  Joe was happy to answer all of Nick's questions about the aquaponics system.  He even brought out some fish food so we could try to see the Koi.  I've been to Farmpark many times and I never knew there were fish!  Thanks to Lori and Joe for being so great with the kids.
Last year, we went up to the the sugar house too soon.  The park opens at 9AM, but we learned from experience that you don't want to go until you see smoke!  After spending time with the above activities, we headed to the evaporator.  I was excited to try the maple stirs since we missed out on them last year.  Basically, they give you a serving of hot syrup and you mix air into it with your stirrer.  Once it's cooled a bit and creamy, you enjoy it.  They were delicious.  For $1, it's a unique treat.  Next time, I'll remember to get them one or two at a time.  It was hard to stir ours and help the kids at the same time.  After we finished our treats, I purchased a gallon of maple syrup.  It was $48 minus our 10% discount.  That's a good price for fresh, local, syrup.
After we looked around at the displays for a bit, Stephen took Nick on a quick side trip to see some of the tree sap.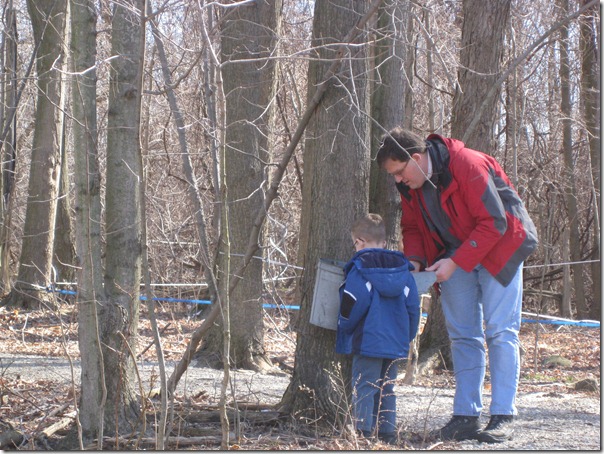 In addition to the formal maple sugaring weekend, the quilts were still on display.  Quilts are amazing pieces of work.  We found ourselves wishing the creators listed how many hours they took.  I'm not sure how many quilts were on display, but it was well over 100.  They were spread out in several areas of the main building.
The kids were both exhausted by the time we finished lunch and both took great naps.  It was a great family day.