On Sunday evening, I attended a meet, tweet and greet event for bloggers at the Insight Learning and Wellness Center.  I wasn't sure what to expect, but I knew there would be familiar faces.  We had about a dozen bloggers at the event and I had met at least 1/2 of them before.  It's been nice to get to know some of the blogging community in person.  It's such a great group of people.
First up, there was a selection of food and beverages.  Jody brought a selection of items from Dove Chocolate Discoveries.  The chocolate products were all great and well received.  Next up was granola samples from Twenty-4 Zen.
There was also food from Melt Bar and Grilled which was very odd.  It wasn't healthy and didn't seem to fit with the rest of the evening.  It was also cold.  I'm not the type to eat cold grilled cheese and fries.  I had one bite of something and decided there were better options for snacking.  I enjoyed cheese and veggies and granola along with a bottle of water.
All different wellness type professionals were present for the evening.  We heard about things like yoga, Reiki, and aromatherapy.  I even had my aura read.  I'm still not sure what to think about it.  I can see the benefit to some things like yoga and meditation, but some of the concepts are a bit much for me to comprehend.
At the end of the evening, we were given a swag bag with a few business cards, coupons and products.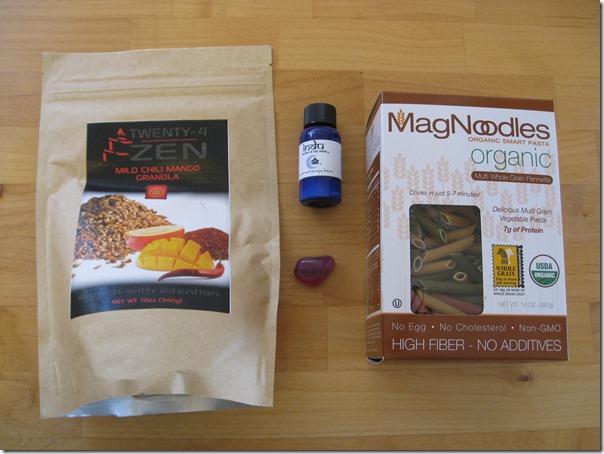 We received a full size bag granola, a sample of Indu lotion, and a box of MagNoodles.  There was some kind of pasta salad made with the MagNoodles in the food area, but I never got a chance to try them out.  We eat tons of pasta at our house, so I am excited to try it out.
I learned quite a bit during the evening.  I gained exposure to new things like Reiki and Aura reading.  Most importantly, I had the opportunity to socialize with other bloggers whom I've had the pleasure of meeting over the last year.
Disclosure:  I attended this event for free.  I was given a swag bag as a gift.  All opinions are my own.