Yesterday, we had a great time at Fiona's birthday party.  Conveniently, it was at the JCC.  I was able to go after my lifeguarding class without any travel time.  Fiona's mom always goes all out for her parties.  This one was no exception.
The tables were set in pink with princess hats for the girls and crowns for the boys.  They also had little swords and wands.  It was very cute.  The cake looked amazing!  I didn't have a piece, but it was disappearing from all of the plates.
The kids enjoyed pizza and fruit before cake.  And, there were plenty of goodies to enjoy and take home.  A good part of the party was spent in the gym with inflatables.  There was a princess bounce house to go with the theme.
The kids loved this slide.
Sally took a ride on a tricycle.  Nick played some ball with dad.
At one point, Stephen and I were standing by the slide and Nick came over.  He had lost his glasses and was very worried and sad.  With the help of a few parents and staff members, we eventually found them.  Nick told us that he lost them in the little bounce house, but we had a hard time finding them.  Turns out, the metal had caught on some of the mesh and they were hanging inside.  We were searching under the house, mats, cracks etc.  I was glad to find them since they aren't cheap.
Here's a view from the track above looking down on the party.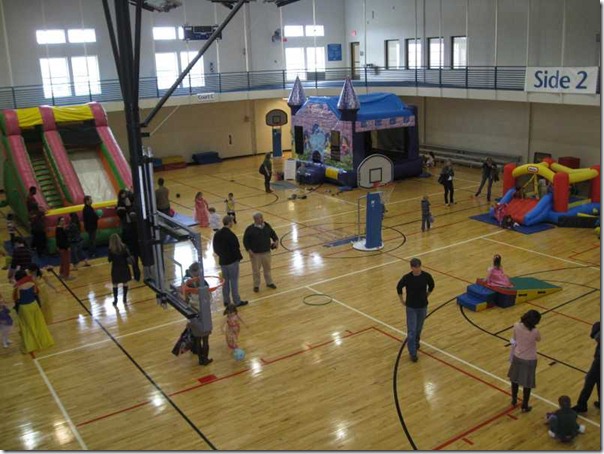 After play time and cake, it was piñata time.  There was a pink one for girls and a blue one for the boys.  I loved the string piñata.  Each child takes a string and you don't know which one will open the trap door for the piñata to open.  It's so much better than getting out the bats.
The kids had a great time.  The JCC staff was great!  Thanks for sharing your birthday with us, Fiona.
My sister is thinking about a Lego party for my nephew's birthday.  I got lots of ideas and inspiration at this party yesterday and spent some time on line learning about making piñatas.  I have so many ideas and so little extra time!