Last week, I decided to re-join the Cleveland Zoo.  As a result of a Groupon, we were members of the Akron Zoo last year and had one day at the Cleveland Zoo for $5.  Since Stephen likes the zoo and we have several friends who are members, I thought we should join.  I have a good time at the zoo too, but it's not usually my favorite.  I do have plans to go to Earth Day festivities next week and the membership will come in handy for that.  The zoos are mostly only 50% reciprocal now, but that will still be a nice discount if we make it to the Pittsburgh zoo and/or aquarium this summer.
We decided to make use of the great weather on Friday and headed to the zoo.  We ended up meeting a mom friend from the J and her daughter.  It's always fun to do things together!
Our timing was perfect.  We left our houses at the same time and parked just 3 spaces from each other.  We also arrived just before the zoo opened and were able to park in a close lot.
We made our mandatory stop at the elephants.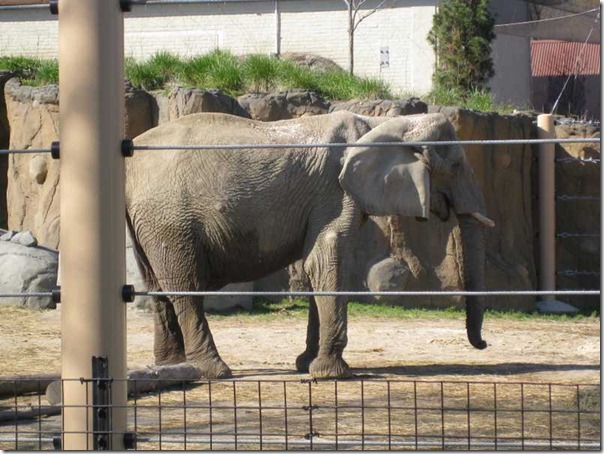 After a quick trip by the flamingos, we were able to catch the tram up the hill to the primates.  It turns out there is also a playground.  I think the kids enjoyed it the most.  We also spent more time there than any other stop.
Nick was able to climb up the outside of this wall.  He also enjoyed sliding down the pole.
Sally was quick to try out the biggest slide and found herself flying down.  The first couple of time she ended up in the mulch.  Inside the primate building, there was a friendly volunteer showing NIck and Sally some touchable exhibits.
We ate a picnic lunch near the lions which too us to our time to head out.  Sally really enjoyed pushing her friend's stroller.  Of course by now the zoo was packed and it wasn't really easy to navigate the trip back to the car, but we made it.
We had a great time and got to know our J friends a bit better.  We'll surely be going back to the zoo again soon.