Our final stop on Easter was also down in Akron.  One of my best friend's from high school was in town with his family from Italy.  His mom hosted an egg hunt.  Since we don't get to see them often, we headed there around 5:30PM.
Sally and A are only 5 months apart, so they had a great time together.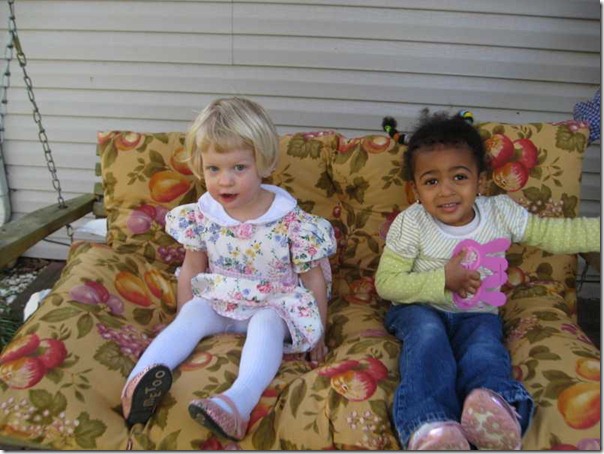 While we waited for the egg hunt and grabbed a bite to eat, Nick and Sally enjoyed some yard vehicles.
Soon, it was time for Nick and Sally's 3rd egg hunt in 2 days.
This was definitely the biggest of the three.  I think there were only 5 kids hunting.  Each of them filled their baskets and need to dump their eggs in a bag in order to continue.
There were eggs everywhere.  This house had an awesome yard for a hunt.
It was the first hunt we attended where the kids got tired of hunting before all of the eggs we found.  After they came inside, some of the adults found at least 5 more eggs.
My friend's wife hung out inside with A's little sister.  It was fun to meet her for the first time.
My friends are in the states for 5 weeks this year, so we hope to get together with them a couple of more times.