Yesterday, Nick and Sally participated in the monthly Caring Cubs event that was held at Whole Foods.  Our family had never heard of the Caring Cubs organization, but I read somewhere that there was an event at Whole Foods that was going to focus on healthy eating and be age appropriate for younger kids.
I registered the kids and was happy that Stephen could attend with us.  Kelly gave us a brief introduction about Caring Cubs.  In a nutshell, it's a volunteer run organization to help younger kids learn about volunteering and service.  There's an event once a month.
Yesterday's event had about 20 kids in attendance.  As the "service" part of the event, we were asked to bring canned food items for a local center.
After Kelly's introduction, Lisa from Whole Foods welcomed us.  We then divided up and headed on a store tour that included stops at 5 different stations.
The first station we visited had two parts.  The first part was a match the item to the correct food group.  After that, Kara shared about eating the colors of the rainbow and the kids enjoyed a snack of carrots, berries, grapes, peppers and more.
Next up, we headed to produce.  We heard about asparagus and its colors.  We also learned about tropical fruits.  Everyone enjoyed a tangerine.
The third stop was celery painting.  Sally and Nick were very familiar with this technique since we had just used it on napkins with fabric paint a couple of weeks ago.
Everyone had a great time painting!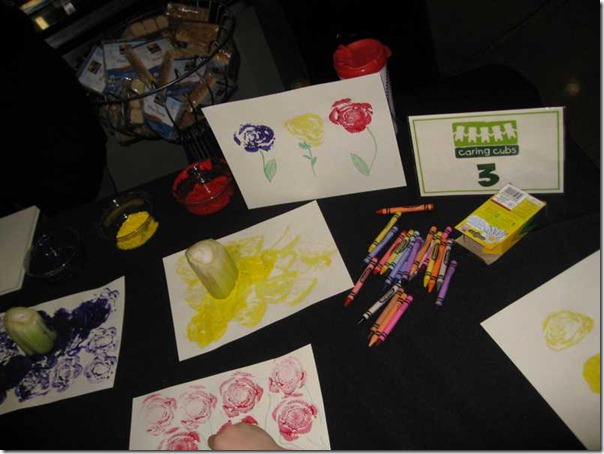 Sally LOVEs cheese.  She was super excited to make cheese and pretzel people.  Both Nick and Sally loved eating them when they were finished.  I can't wait to make these for lunch one day this summer when we are visiting with my niece and nephew.
Here's a close up of a finished cheese guy.  Our last stop was an activity for drawing what was on a healthy plate.  Our kids were good at saying what was healthy, but not quite of drawing age.
After visiting each station, there were refreshments back at our starting place.  We had a good time and would definitely check out some of the other events for Caring Cubs.