Yesterday, the kids and I headed to the J for our typical Friday morning.  Instead of heading home for lunch around noon, we headed to The Green Dream.  I was looking forward to checking out the expo that started at 1PM.  But, I had read that 6 of Cleveland's food trucks were going to be open for business starting at noon.
The kids and I checked out our options and dined in the mobile food court area.
We ended up with a BBQ sandwich, water, mac n cheese and a cupcake to share.  I loved the recycled tables and centerpieces.
Once we ate, we headed inside to check out the exhibitors.  As we entered, we saw this tower of recycle materials.  As consumers, we sure create a ton of waste.  My favorite new item was the Essentially Organic Vending Machine.  Apparently, they have machines in over 70 places in the Cleveland area.  The machine included many healthy snack options like squeezable apple sauce, milk, nuts, etc.  My kids would eat anything this machine offered.
We made a stop to say hi to our Fresh Fork CSA.  I think the display looked particularly good.  Fresh Fork was featured on Good Company yesterday, so they were having a really busy day.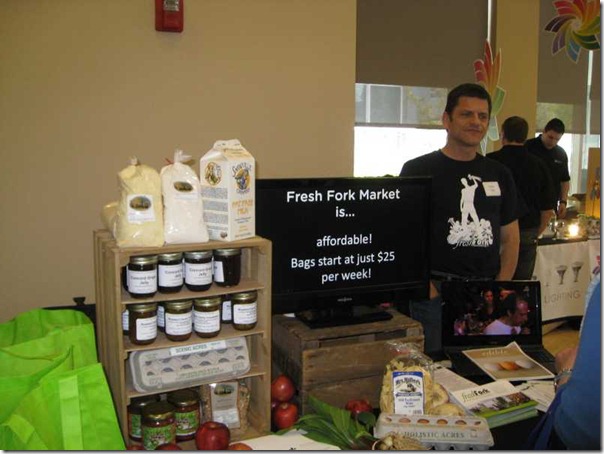 Since it was nap time, I took a stroller for Sally.  She hasn't ridden in one in a long time.  I don't think she fits very well.  But, despite staying awake, she didn't want to get up and walk around.  Nick had fun spinning wheels for prizes.
The green smoothies from Cleveland Clinic were also a hit.  I'm hoping to procure a Vita Mix soon so we can make them at home.  Our regular blender just doesn't do the trick.  After we were done checking out the outside exhibits, we visited the East Coast truck for ice cream.  Sally made a huge mess and I was glad I had a clean shirt for her in the car.
We went back inside to say bye to Fresh Fork and ran into the shark and sea horse from the Greater Cleveland aquarium.  They turned out to be Nick and Sally's most favorite part of the day.
I had never been to the expo before, but found it to be well run.  We'd probably go again next year – especially if the food trucks come back!