Today, we picked up week 19 of our Fresh Fork CSA.  It was our worst pickup of the season.  Nick, Sally and I had spent a good chunk of the day in Akron.  Both kids feel asleep on our way from Akron to Beachwood High School.  Sally woke up about 15 minutes from the pick up and would not stop crying.  Nick was fast asleep even through the crying and was still sleeping when we arrived at the school.  He would have been very upset if he couldn't say Hi to Mr. Robert at the truck, so I woke him up.  (Last time I didn't wake him up for something, he cried for 2 hours).  He was fine when I first woke him up, but then he started crying.  Sally cried the whole time we were there too.  Robert brought out bag over to the car to help us out, but I still took the time to get the kids out because they wanted to say hi and I wanted to buy extras with our vacation credits.  We ended up cutting out losses at one bag of corn chips for $3.50 and decided to settle up next week.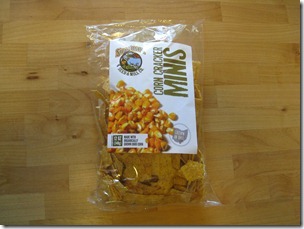 Here's the list of what we were expecting:
Small CSA:
1 half gallon apple cider
1/2 lb. leaf spinach
1 bunch Swiss chard
1 bunch leeks
1 head broccoli
4 oz. piece brie
1 head kohlrabi
2 ct. winter squash
Quarter peck pears (4-5 depending on size)
Here's a group shot: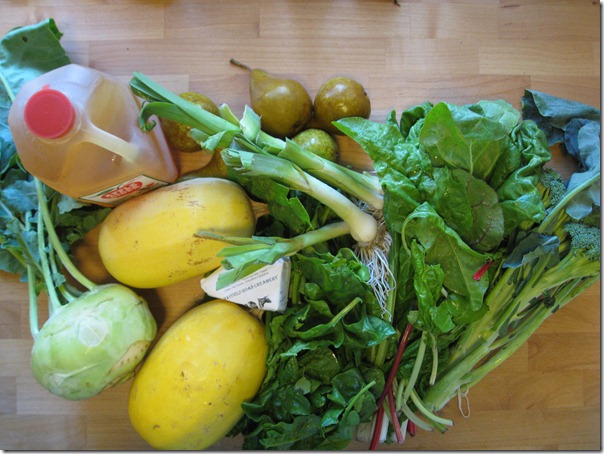 I love winter squash.  Spaghetti squash is not my favorite, but we'll cook it and eat it with pasta sauce this week.  My husband already opened the cider.  I'm sure it will disappear easily.
This is the biggest kohlrabi that I ever saw.  The leaves are edible and in great shape, so I'll probably make a au gratin dish with it.  The broccoli looks tasty and will make an easy side dish in the next day or two.
My friend Chaya mentioned honey mustard roasted leeks.  We didn't get very many, but I still might try fixing them roasted style.  We have Swiss chard from both CSAs this week, so I'll cook it together with some sausage for a meal this weekend.
I'm still working through the 2 bushels of pears that I picked up this week.  This won't be ready to eat for a few days and I'm ok with that.  We'll enjoy them early next week.  The spinach and brie cheese will go into a tasty pasta dish.
Dare I say that I think I'm starting to get the hang of these CSAs.  It's a good thing because I just signed us up for both winter ones.