Yesterday, we picked up week 22 of the summer Fresh Fork CSA.  It was the last pick up.  I'm glad that the winter CSA starts next week.  We received a few higher dollar items, so we didn't have as many different things.  That was fine with me.
Here's what we were expecting to receive this week:
Small CSA:
1 pack of Berkshire pork chops, center cut and boneless. Approx. 1 to 1.25 lbs.
1 quart farmstead yogurt
8 oz. aged cheddar cheese, pepper Havarti ,or Havarti cheese
1 head Napa cabbage
1 quarter peck Jonagold apples
1 bag of mixed salad/braising greens
2 count butternut squash
Here's a group shot: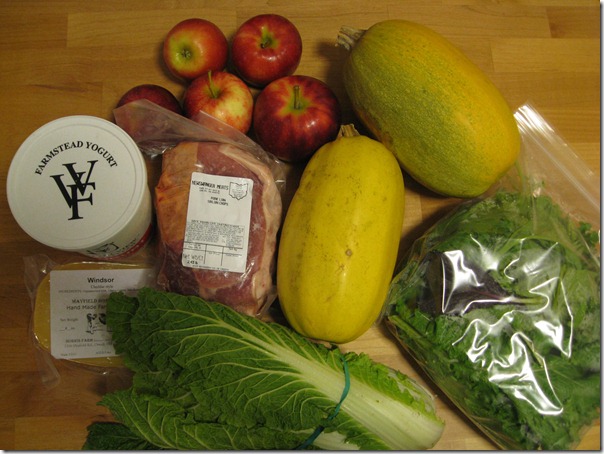 The Berkshire pork chops are one of our favorite items from Fresh Fork.  We'll bake them in the oven with spices and apples for a yummy dinner.
I've only had Napa cabbage one other time.  I'm not sure what fate it will have.  Spaghetti squash was substituted for the butternut squash.  I was hoping for butternut.  We like spaghetti squash ok, but it's not our favorite and it's less versatile.
The mixed green will probably go into salad.  If not, we can sauté them.  We were out of yogurt and there wasn't any on the truck last week, so we were happy to see it expected this week.
Cheese is always a bit hit in our house.  This is aged cheddar and we can't wait to try it.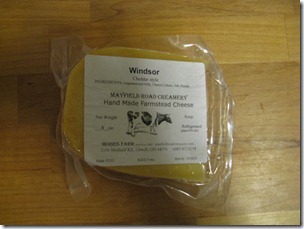 We picked up an extra yogurt ($5) and a bag of honey puffed spelt ($3) while we were there.
I'm excited to have a slower week in terms of items that have to be used right away.  I'm recovering from a badly bruised knee and a little less kitchen time will be a good thing for a few days.