Today, we picked up week 20 our of Fresh Fork CSA.  Unlike last week, we had a great pick up.  Both kids were in a good mood.  The weather was great and everything was smooth.  To make up for one of our vacation weeks, we did a double up this week.  Basically, we picked up 2 small shares this week.
Here's what we were expecting to receive this week (times two):
Small CSA:
1 lb. ground veal
1 lb. ground pork
1 pint grape tomatoes
1 large head of cabbage
1 bunch collard greens
1 head cauliflower
2 ct. bell peppers
2 ct. eggplant
Here's a group shot (of one set, you can imagine it double):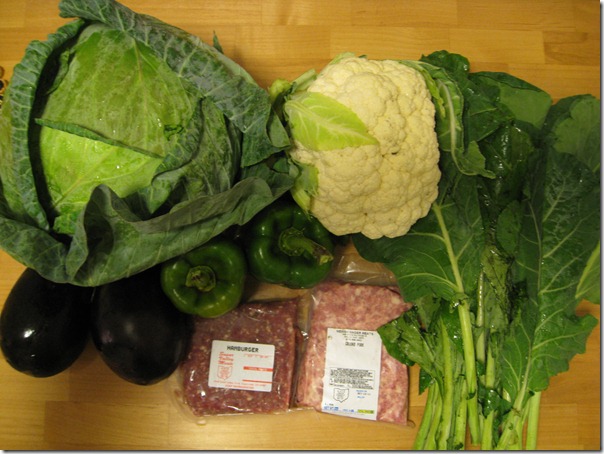 Since we have 4 eggplant, I am planning a vegetable lasagna with mostly eggplant and whole wheat noodles.  We haven't had much cauliflower this year.  We'll be making a cauliflower au gratin dish that uses parmesan cheese and bread crumbs for a crumbly topping over the steamed cauliflower.
Both heads of cabbage are huge!  We'll be making stuffed cabbage of some sort.  Usually, I end up making unstuffed cabbage since I'm not that great of actually making the rolls.  We'll also probably make some cabbage soup and some coleslaw.  Last week, I made collard wraps with our collards.  They turned out pretty good so maybe I'll make them again and change up the filling.  These collards and cabbage look especially good and fresh.
We put some bell pepper in our cabbage dish and freeze the rest.  We also have 2 packages of ground pork and veal.  I think Stephen is going to make meatloaf and the rest of the meat will go in our cabbage dish.
We also purchased 2 of the yogurts.  We still had $1.50 to use from our week 17 vacation and we were out of yogurt, so I picked up two and paid the $8.50 balance.
I was disappointed that we didn't get grape tomatoes in either share.  I thought I saw some at the truck, but the weeks are starting to run together.  I've emailed Fresh Fork about them.
We did sign up for the winter CSA and also for a Thanksgiving share.  We'll have plenty of good eats on the horizon after the summer season ends in two weeks.