It was 45 degrees and raining when we picked up week 21 of our Fresh Fork CSA today.  The tent had blown around so much, that by the time we arrived around 5:30PM, they were just all working from the truck.  I think the winter pick ups have better weather than what we had today.  Robert and his crew are awesome!
Here's what we were expecting to receive this week:
Small CSA:
1 dz. pasture raised chicken eggs
1 lb. breakfast patties
3 lbs. Yukon gold potatoes
1.5 lb. bag untoasted organic oats
1 bunch beets with tops
1 lb. fingerling potatoes
3 lbs. turnips
Quarter peck Melrose Apples
Here's a group shot: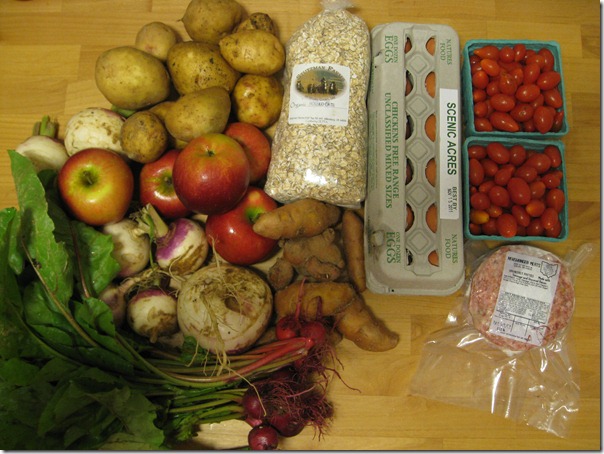 The tomatoes are from the missing ones last week.  Nick was glad to see them.  I actually had to buy eggs at the store this week, so I was happy to get them.  I see some pumpkin bread and waffles in our new future.
We were low on apples this week too.  I actually picked some up at the store.  I'm hoping to go picking one more time, but the weather has not been cooperating.  Since at least 2 members of our household eat oats for breakfast everyday, these will be gone in no time.
We have a good stash of potatoes going at the moment since we've gotten them in both CSAs and from our garden.  I want to make a couple of new dishes, but I haven't decided what.  The breakfast patties (part bacon and part sausage) look delicious.  Maybe we'll have them for dinner with pumpkin waffles soon!
We'll probably make soup with the turnips.  My first thought was 3 pounds is a large amount of turnips.  But, we can work with it.  It's not as familiar because we don't get them often.
We have beets from our other CSA this week also.  We really like Harvard beets and don't usually make them any other way.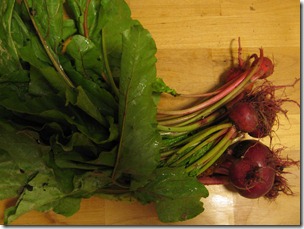 It's been a great season.  Next week is the last pick up for the summer CSA.