Today was our last visit to Whole Foods to pick up our 2011 summer CSA.  Just about every week, we were greeted by Andrew.  He usually works in the kitchen in the morning, but somehow ended up with the Tuesday afternoon CSA gig most of the summer.  He was super nice to everyone, especially Nick and Sally.
The photos are dark again this week.  Maybe I can figure out some evening lighting for next year.  Here's the group shot for this week.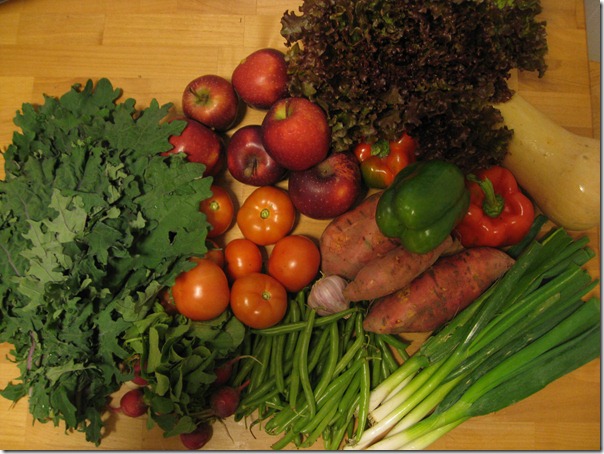 Let's take a closer look:
Green onions, green beans
Red Russian Kale, bell peppers
Butternut squash, lettuce
Radishes, apples
Sweet potatoes, tomatoes
Garlic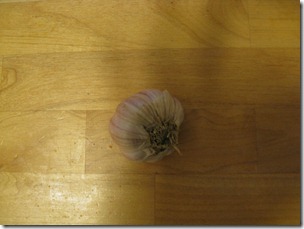 We've been going through a ton of apples this year.  Between morning oats, snacks and applesauce, I can't keep them in the house.  We went picking for the last time this year, but I was still glad to see apples in our pick up today.
I still have some cabbage in our fridge.  I'll be making another batch of unstuffed cabbage in the crockpot Thursday.  It will use the garlic, tomatoes, bell peppers, and green onion.  I love having a recipe that uses many CSA ingredients and is also flexible.
My kids have been asking for sweet potatoes the last couple of days.  I usually slice them, season them and bake them.  They disappear quickly with a bit of ketchup for dipping.
Lettuce and some radishes will go in lunch salads.  The rest of the radishes will go into turnip soup.  The green beans make an easy side dish.
I'm not quite sure about the squash yet.  I'm thinking about making some butternut squash soup, but I'm not sure of the timing since I need to make turnip soup first.
It's supposed to get cold this week.  I'm glad we have some hearty items that go well with ovens and soup.  It's been a fun season.  I'm already excited about the winter CSA.