Last Tuesday, the weather was beautiful.  We aren't going to have too many more bright and sunny days before the snow flies.  We had seen the last piece of the Lincoln Electric wind turbine on a truck heading west on route 6 one day a couple of months ago.  Since then, we had seen the turbine from the highway on I-90, but we had seen it close up.
(Hi, this is husband Stephen. I'll pick up the story here…
Back in March, we were in Willoughby Hills when we saw a strange and large truck drive by. It was hauling a huge industrial storage tank, or so we thought. "Let's follow it and see where it's going," said Lyn, to my relief, because that's exactly what I wanted to do! Nick and Sally initially didn't understand, but once the  changing traffic let them get a good look at the truck, they threw in their wholehearted support for our mission.
The elaborate effort involved was fascinating, even for something as simple as turning a corner. The truck had to stop while people from the escorts made adjustments to the rear wheels. Then it inched around the corner with close monitoring from the crew and sometimes more adjustments. Here, it just finished a turn onto Richmond Road: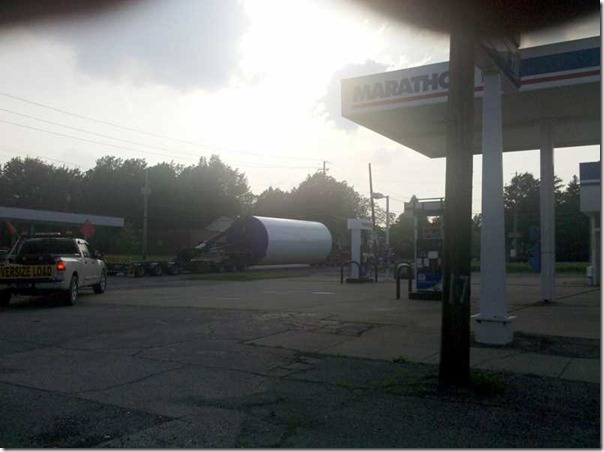 We started following the truck at 7 o'clock. At 7:20, we said, "OK, ten more minutes, that's all!" By that time, the truck started down a lonely industrial parkway. We still had no idea where we were going, but we tried to guess from the corporate signs out front. With that quiet road, though, there was no way anyone could think that we just happened to be going the same way any more!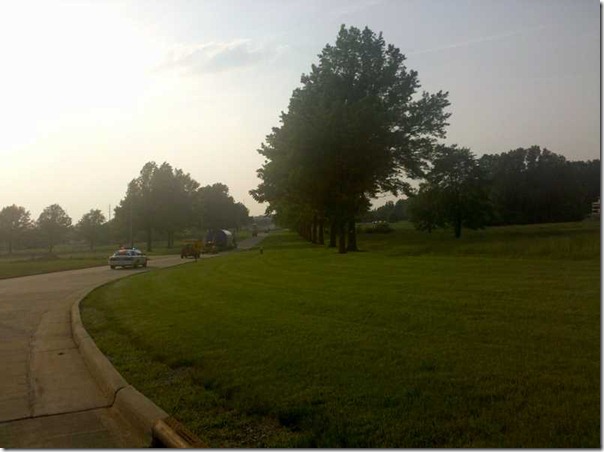 The truck eventually reached Babbitt Road, where it crept under a railroad bridge with mere inches of clearance, after the escort crew made a bunch of adjustments to the wheels. Perhaps they lowered the suspension, or even let air out of the tires, so it would fit.
After this long, we were dying of curiosity to know what we were following. A storage tank for bulk plastics? A section of grain silo? We had no idea, but it was close to 8. (Ten minutes? Who said ten minutes?) Nick and Sally were tired and we needed to go home. Just before we turned back, we spotted a man in business attire taking pictures of the operation. We asked him, and he enthusiastically explained that we were watching the arrival of the last piece of Lincoln Electric's new wind turbine. I don't think it took much more than the words "wind turbine" for Lyn to resolve to take Nick and Sally to see it when it was finished.
Lyn picks up the story from there…)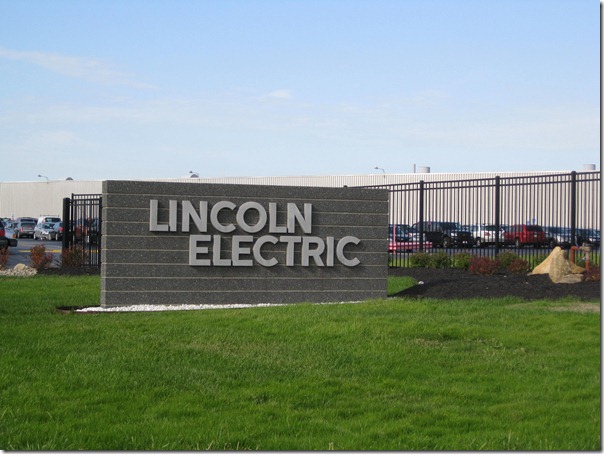 The turbine located at Lincoln Electric's world headquarters at East 222nd and St Clair in Euclid.  We packed a picnic and set off for a visit.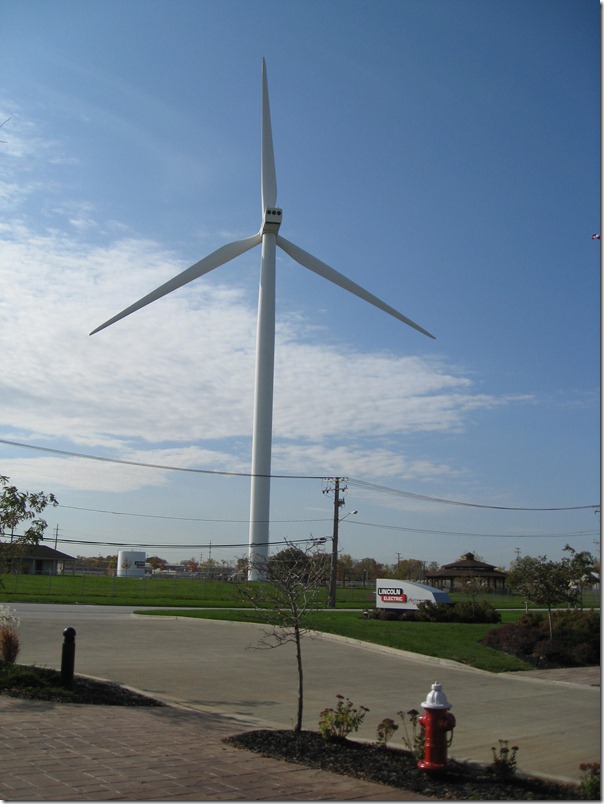 It's a mammoth sight to see up close.  It's 443 feet tall and can produce enough energy for 686 homes.
We lucked out since one of the Lincoln Electric divisions had a nice picnic site out front.  It was especially nice for the kids since the other direction they could see trains.
The wind turbine, trains, sun, and a picnic made for a great outing!