Today was our first pickup for our winter Geauga Family Farms CSA.  For the 6 week winter program, our pick up is on Saturday at St. Noel church in Willoughby.  For the most part, this works well for us although there is the occasional time when we have other plans on Saturday and would prefer not to bother.
Here's a group shot of what we received: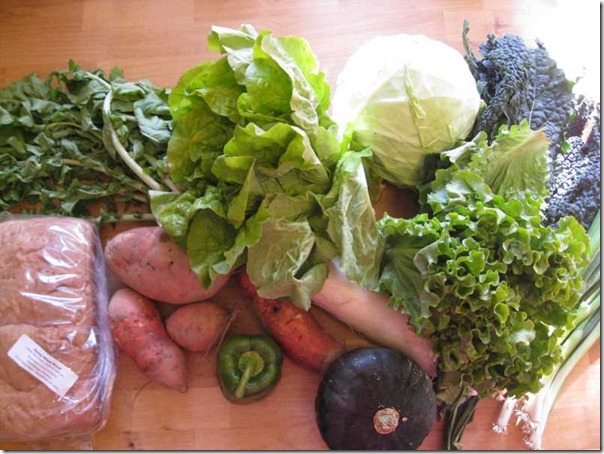 2 types of lettuce
Sweet potatoes, green onions
Lacinato blue kale, wheat bread
Daikon radish, green bell pepper
Cabbage, acorn squash
We'll enjoy the lettuce in salads this week.  We have some other salad greens as well and they will mix nicely together.  We can't get enough sweet potatoes.  Lately, I've just been slicing and baking them.  We have been using the onions and pepper in unstuffed cabbage and will make that again this week.
By the way, I had no idea we had lacinato blue kale.  I was able to check with the farm reps and get a speedy reply!  I'll probably cook it like my other greens.  I usually saute them with garlic, onions, peppers and a splash of balsamic vinegar.
The Daikon radish always stumps me.  We've made "chips" and soup before.  I'll have to see what strikes me this week.
I was surprised that we didn't get eggs.  I thought we were going to get a dozen eggs and a baked good each week.  I'm guessing that with the abundance of other items still available that we will get eggs some of the future weeks.  I've been enjoying the local eggs, but I wasn't out yet.
It looks like a great week!