My husband and I like to watch the Iron Chef.  We've also watched two seasons of the Next Iron Chef.  We've been to a couple of Michael Symon's restaurants, so when my sister told me there was a Morimoto restaurant in Waikiki, we definitely wanted it on our to do list.  Since I don't really care for sushi, we checked out the menu before we made reservations and decided we'd be able to find things that we liked.  The restaurant turned out to be a short walk from our hotel.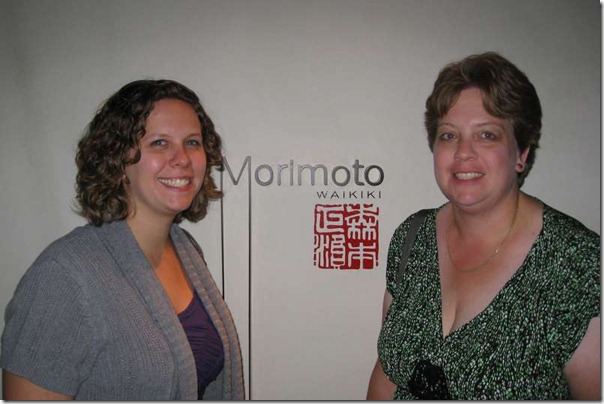 It was the dinner that made me glad that I brought a skirt to Hawaii.  We were greeter by Josh our server and these beautiful chopsticks.  I asked for a fork, but I still thought they were cool looking.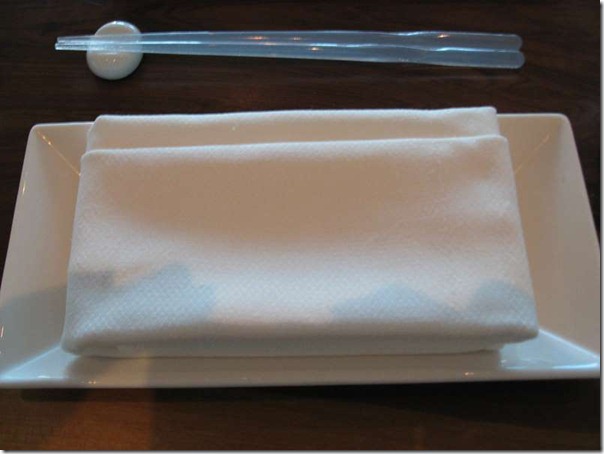 I was impressed with the iced tea.  It came in a carafe with a  cup of simple syrup for sweetener.  I love iced tea and this was fun.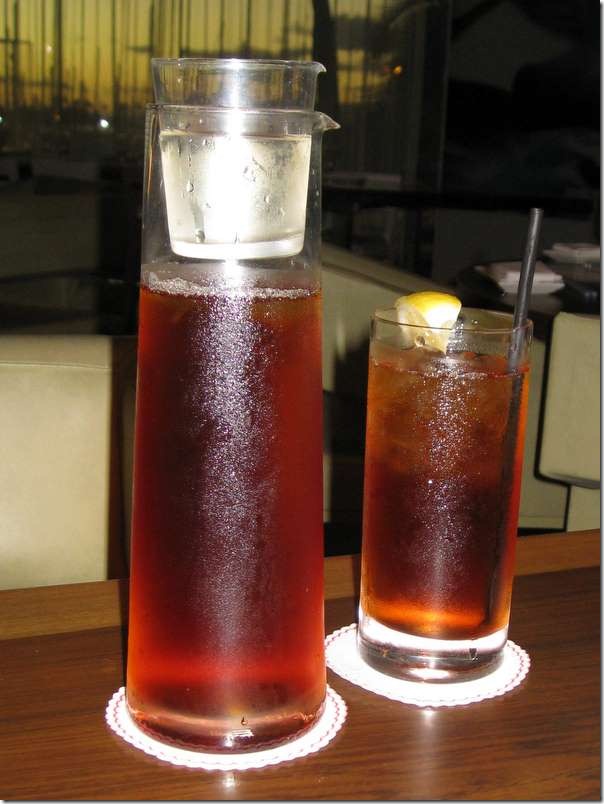 After much discussion, everyone at our table ordered the Omakase which was a multi-course tasting menu designed to allow us to experience the essence of Morimoto's cuisine.  We had 9 courses in total and they change regularly, so you never have the same meal twice.
1. Toro and Hamachi Tartare
Minced fatty tuna and yellowtail with condiments of wasabi, nori puree, Maui onion, rice crackers, crème fraiche, guacamole served with a dashi soy. Yamamomo to cleanse the palate.
Thoughts: I was surprised that I liked this course since there were tons of flavors that I would never order.  It was very tasty and disappeared by the end of the course.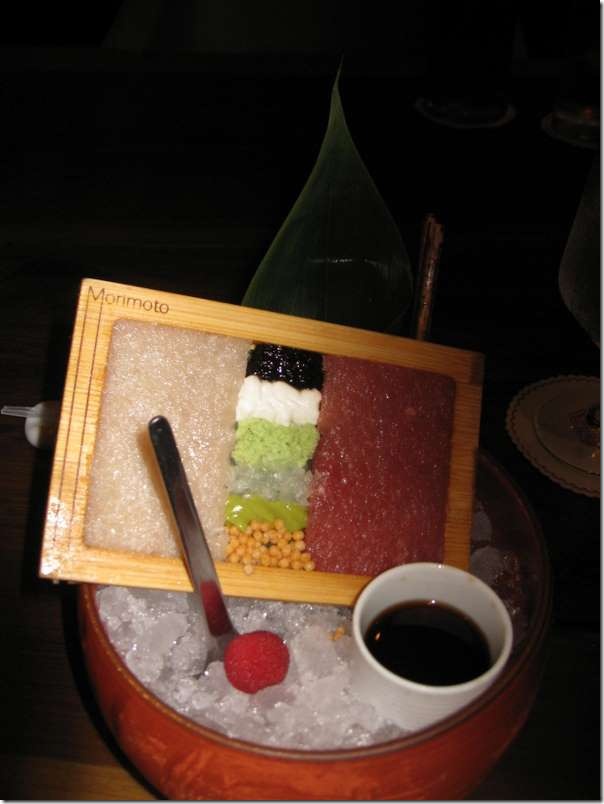 2. Hot oil sashimi(seasonal fish)
topped with ginger, garlic, citrus soy, king oyster mushroom, shiso then seared with hot oil to seal the flavor.
Thoughts:  I forgot to snap a photo.  It was tasty.
3. Bagna Cauda
Seasonal vegetables and deep fried chicken thigh served with a dipping sauce of garlic , anchovy and olive oil. Garnished with Shichimi Togarashi powder, house made foccacia.
Thoughts:  You can't tell in the photo, but this was kind of like a fondue course.  The oil is hot and there is a flame underneath keeping it hot.  It was the "be careful" dish since we definitely didn't want to spill anything.  The dipping sauce was tasty even though it had anchovy.  All of the accompaniments were fresh and good as well.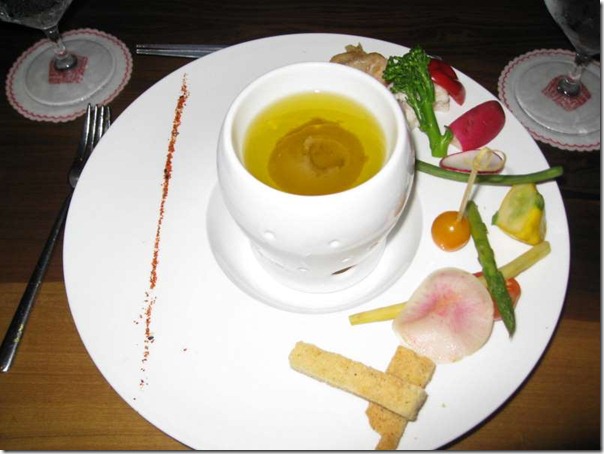 4. Foie Gras Chawanmushi
Thinly sliced roasted duck breast over foie gras infused egg custard, dashi soy, fresh wasabi.
Thoughts:  I liked this dish.  Apparently, many people don't care for it.  I loved that the serving bowl looked like it was designed for this dish.  The presentation throughout the courses was outstanding.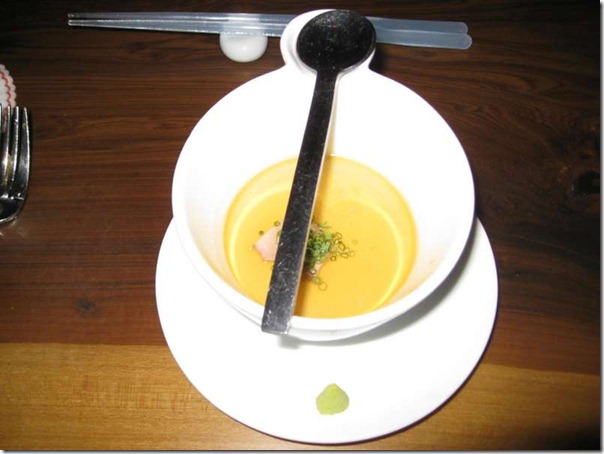 5. Intermezzo
Konbu cha, sea kelp tea
Thoughts:  I hated this tea.  I'm not sure what it tasted like, but yuck!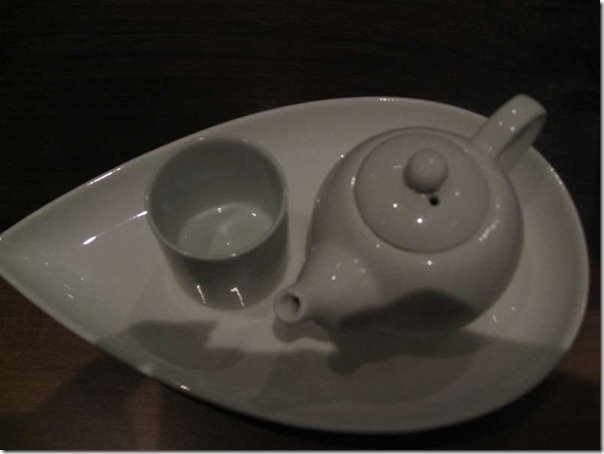 6. Chef's selection seasonal nigiri sushi
Thoughts:  So, I ate the sushi.  That was a big deal.  I didn't care for the one with the green or the one with the sauce, but the other three were quite delicious.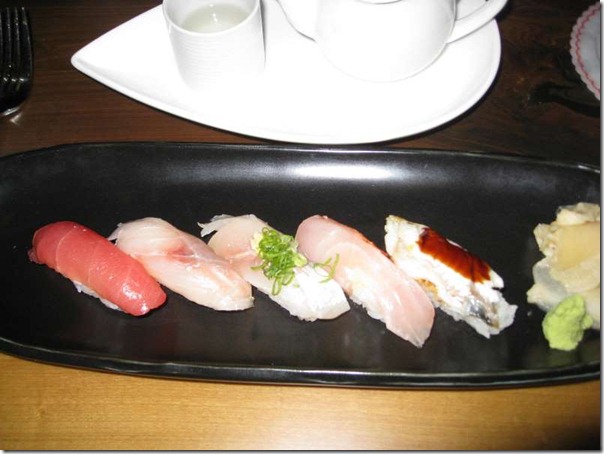 7. Surf and Turf
Pan roasted lobster with a garam masala spice mix, wagyu filet with Maui onion jus, ginger pork with a peanut sauce, pear marmalade, macadamia nuts
Thoughts:  The main course was really good.  I liked that the three things I was trying to pick from on the menu originally were all included in this course.  The sauce on the beef was a bit salty for my taste, but everything was perfectly cooked.
8. Pre dessert
Kuro mitsu gelee over soymilk panna cotta
Thoughts:  This was good, but unremarkable.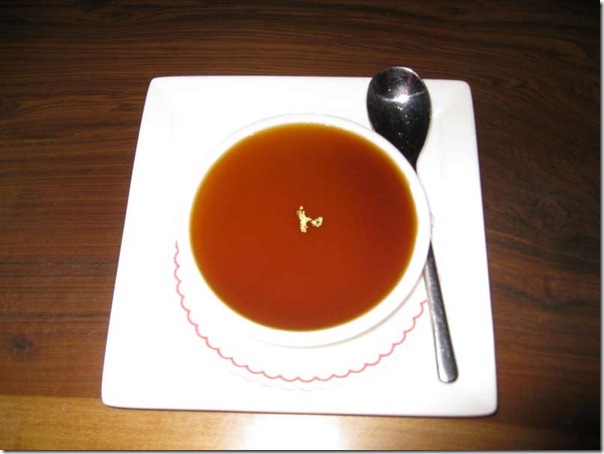 9. Kabocha soufflé cake
candied kabocha, Okinawan sweet potato ice cream
Thoughts:  This was really good and I forgot to snap a photo before it was gone.  It was fun to have kabocha in a dessert because I had just bought one at a farmer's market a week or two before.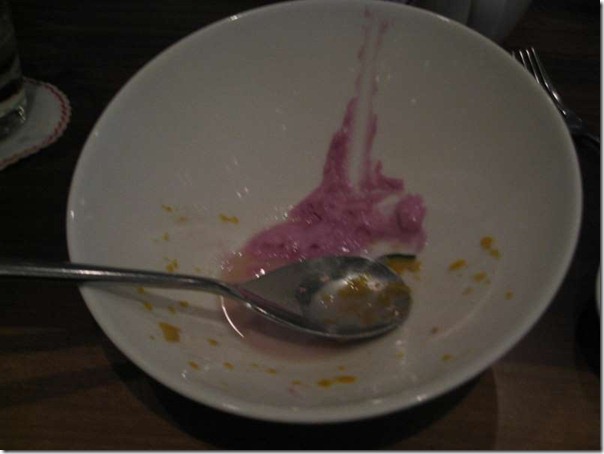 This was one of the best meals that I have ever had.  The service was outstanding and each course was unique and adventurous.  I'm not usually as daring with food, but this was an opportunity that I could not pass up.  I wonder if I'll get the opportunity to visit another Iron Chef restaurant some day.