Today was our second winter Fresh Fork CSA pickup.  It was our first in the dark!  It's hard to get used to the time change.
I was super excited for today's offerings.
Here's what we were expecting this week:
1 whole pasture raised chicken
3 lbs. sweet potatoes
1/2 lb. baby leaf lettuce
Quarter peck Winesap apples
Choice of collards, Swiss chard, kale, or watermelon radishes
1 lb. krispy treat granola
1 lb. grassfed ground beef
Approx. 1.25 lb. chorizo sausage links
1 pie pumpkin (for making your own pumpkin pie)
Here's a group shot: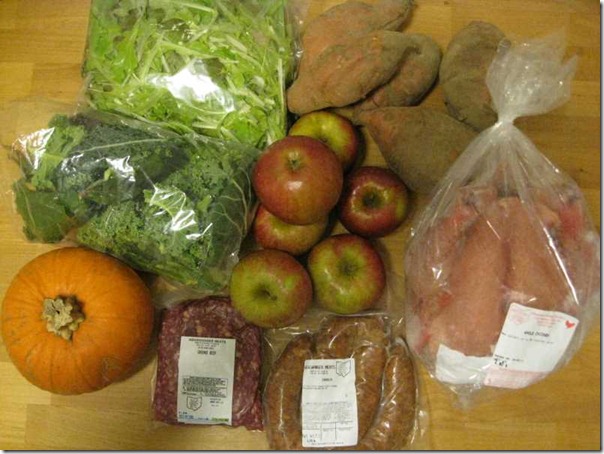 We got the braising greens for our "choice of".  Apples are always welcome in our house.  I tried freezing chunks for use in oatmeal today.  I'm anxious to see how they turn out in the morning.
We love freezing pumpkin puree for use in pancakes and other dishes throughout the year.  You can never have too many pie pumpkins.  We'll have salad with our mixed baby greens.
These sweet potatoes are good size and will probably end up in sweet potatoes fries for the kids for lunch one day soon.  They can't get enough of them when I make them.  I just put the chicken in the freezer, but due to space, I'll probably thaw it to cook on Sunday to make for a few easy meals to start the week.
The ground beef was starting to thaw, so I put it in the fridge.  I think we'll make some fajita flavored for tortillas this weekend.  The chorizo is one of my favorite Fresh Fork products.  It's frozen, but it won't last long.  I will probably take it out of the casing and cook it ground for use in salad with quinoa, black beans and olives, etc.
In addition was bought 2 more yogurts ($5 each) since there isn't a pick up next week.  Also, we were gifted a few watermelon radishes to try.  We've never had them before.
We didn't get our granola and I'm not sure if it was on the truck, but we are checking on it.  It's shelf stable, so we can get it later.   We're actually out of granola, so I make make a batch this weekend since I'm in the mood for it.
I love that many items this week don't have to be used right away.  It's nice to have an easy week once in a while.