While I picked up my regular share yesterday, I also picked up a Thanksgiving package from my Fresh Fork CSA.  There were 3 to pick from and I choose package number 1.  I debated whether to get a package since we don't usually cook Thanksgiving dinner.  We go to my uncle's house.  I discussed it with my husband and we decided to try it out.  Let's just say we will be eating well for a couple of weeks.
Here's a group shot of what we received.  It was hard to get everything in one photo!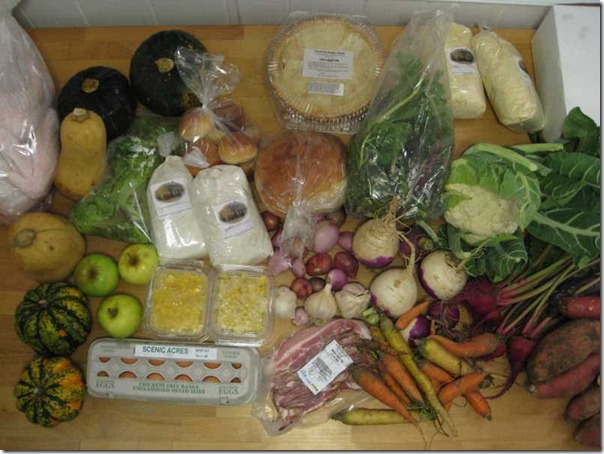 We were expecting the following:
Package 1 Contents:
Tom Turkey
Apple Pie
Sweet Potato Pie
Beets
Carrots
Candy Onions
Sweet Potatoes
Red Norland Potatoes
Shallots
Garlic
Dinner Rolls
Turnips
Cauliflower
Lettuce
Bread for Stuffing
Eggs
Winter Squash Mix
Cornmeal
Pie Pumpkin
Frozen Ohio Sweet Corn
Bacon
Braising Greens
Apple Cider
Apples
White Spelt Flour
Let's take a closer look.
The pies look awesome.  The apple pie is made with Ohio apples and came from Humble Pie Baking.  It came with instructions for a little bit of additional baking time before serving.  We are taking it with us to my uncle's house.  The sweet potato pie came from Lucky's Café.  We didn't need the pie at my uncle's house and I didn't need a whole pie here.  So, I sent it to work with my husband this morning sans a piece.  The kids and I shared a piece with lunch.  It is one of the best pies that I ever tasted!  I'm extra glad that it went to work with my husband today.
We hardly ever by grocery store eggs.  The farm fresh ones are so good.  We also like knowing where they came from.  We were almost out of eggs until our delivery.  We'll use some in our waffles this weekend, my sweet potatoes for tomorrow, hard boil some and use some for regular everyday cooking.  The frozen corn is a new item.  This corn was frozen this summer when it was in season.  I just popped it in our freezer.  We probably won't try it for a week or two as we make our way through our fresh items.
The bacon is always great.  I just put it in the freezer.  We'll use some with our stuffing recipe and some with our greens.  If there is any left, we'll crumble it on our salad.  We were out of apples and already have eaten some on our oatmeal for breakfast.  These won't last long in our house.
We received whole wheat flour instead of spelt.  Either is fine with us.  We use almost all whole wheat flour in our house, so the change was welcome.   We tried a couple of rolls with dinner last night.  They were very tasty and buttery.  We put the rest in the freezer.  My kids love bread and these will be easy to give them with lunches.
Winter squash is one of my favorite foods.  It's so versatile and delicious.  These should store well and are not on my immediate radar to use up.  This bread looks great.  It's intended for stuffing, but I have a feeling it may become French toast or squash inspired bread pudding instead.  For now, it's in the freezer.
The lettuce is super fresh.  Some went to work for my husband's lunch.  The rest will probably be served with dinner.  These heads of garlic are HUGE!  We are in garlic overload this year.  I'm not sure why we have so much, but if I can't get it used soon, I'll chop and freeze it.  I mostly just need to remember to put it into dishes.
I enjoy cooking with shallots.  They have a milder flavor than onions and compliment other flavors well.  For now, these are being stored in our basement.  Turnips will probably go into soup.  I don't have a great go to recipe for them yet.
Our local, pasture raised turkey came to us fresh from Martha's farm.  This bird weighed in at 22.8 pounds.  They were just processed on Monday.  Since we aren't cooking Thanksgiving dinner and I'm interested in trying a turkey sausage recipe, we are freezing our bird in several pieces.  I'll be making some of it for dinner tonight and we'll get many meals out of this big bird.  The braising greens will get sautéed as a side in the next couple of days.
The corn meal is a great pantry item.  Nick loves corn muffins and we haven't made them much lately.  They'll be a great use for some of this corn meal, eggs and whole wheat flour.  The carrots look super fresh.  Everyone in our house likes carrots and we're having them for dinner tonight.
Cauliflower is so easy for us to use.  Everyone likes it.  I usually do it plain, with a few seasoning or in a simple au gratin recipe.  With a head here and in our regular pickup, maybe we'll have it three different ways this week.  With the beets, I'll make a small batch of Harvard beets.
We'll be having our fill of mashed sweet potato casserole tomorrow, so these will probably get baked into fries for lunch one day next week.  The kids love them with Ozark blend and cinnamon spices.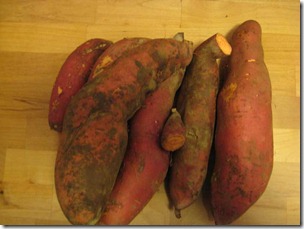 After I got home and sorted out all of our goodies,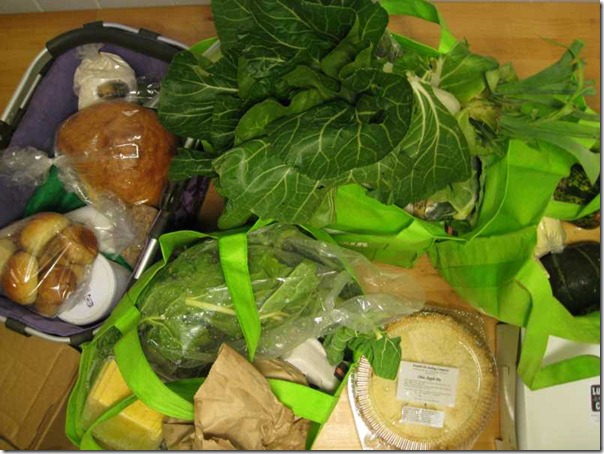 I realized that we were missing or short on a few items.  We were missing onions, potatoes, pie pumpkin and apple cider.  We were short some apples and cornmeal.  A quick email to the great guys at Fresh Fork and they'll remedy it at the next pickup.  I was given an option to pick it up at another site today, but I'm in no rush.  We have plenty to last us for a while.
Our pick up was not the best yesterday.  It was extra busy with the regular shares, holiday packages, turkeys, pies and LOTS OF RAIN.  We had to wait for a while, but everyone in line was chatting and taking it in stride.  Even the kids just liked running around in the rain.
The food always tastes amazing and the people who work the truck are super nice.  I already can't wait to see what they offer for Christmas.  Berkshire ham anyone?