Today was our pick up for week 2 of the winter Geauga Family Farms CSA.  We had a full schedule for today and I just ran up to St. Noel without the kids to pick it up first thing this morning.
Here's a group shot of what we received: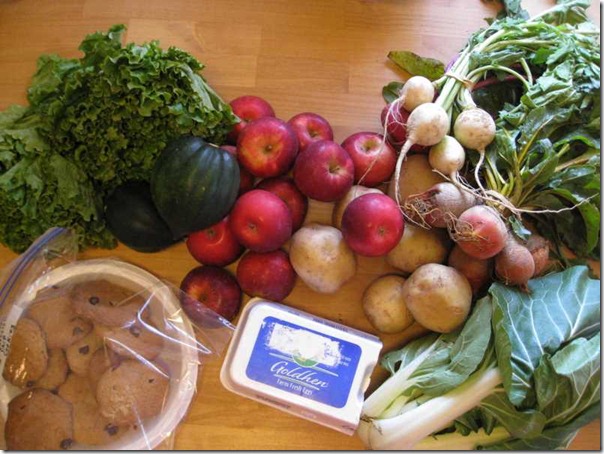 Potatoes, bok choy
Radishes, beets
Acorn squash, apples
1/2 dozen eggs, 2 small heads of lettuce
Dozen of chocolate chip cookies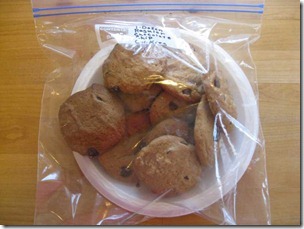 We have quite a supply of potatoes at the moment.  I'll be rotating these into our storage and trying to make a couple of potato recipes this week.  I'm thinking that some kind of Shepard's pie may be in order.  The last time we got bok choy, I cooked it in the crock pot with Asian spices (ginger and sesame oil) and served it to my husband with soba noodles and pork.  He liked it.  The rest of the family isn't big on the sesame flavor.
We're going to roast radishes this week.  We're also going to make Harvard beets.  I think I have 2 bunches of both in the fridge right now.
Acorn squash is one of my favorite squash.  I've been making a rue and adding squash puree and seasonings for use over whole wheat pasta.  It will be lunch a couple of days this week.
We're still using apples in our oatmeal everyday while the season is still here.
We were out of eggs and I'm cooking my dish ahead for Thanksgiving tomorrow so the eggs will disappear quickly.  The lettuce will be eaten with salad.
The cookies are GONE!
Looks like another week of great, fresh, local food!