Today was the first winter pick up for our Fresh Fork CSA.  Generally, we'll be picking up every other week, but the first few pick ups are off schedule due to the upcoming holidays.
We are still picking up at Beachwood High School on Thursdays.  The pick up times are a tighter with our pick up scheduled between 4PM and 6PM.  We still have the option of picking up in Cleveland Heights later if we ever get in a jam.
Thursday is our extra busy day since Nick has a swim lesson at 4:30PM.  It's conveniently just down the street from Beachwood High School, so we just picked up our CSA on our way home.
For the winter CSA, there is not an option for small, large, vegetarian or vegan.  Everyone gets the same package.
Here's what we were expecting this week:
1 Boston Butt Roast, 5-6 lbs.
1 bunch cylindra beets with tops
1 pint cherry tomatoes
1 head cauliflower
2-3 green peppers
8 oz. mixed salad greens
2 bulbs hardneck garlic
2 ct. seasoned pizza dough balls
8 oz. fresh mozzarella cheese
Here's a group shot: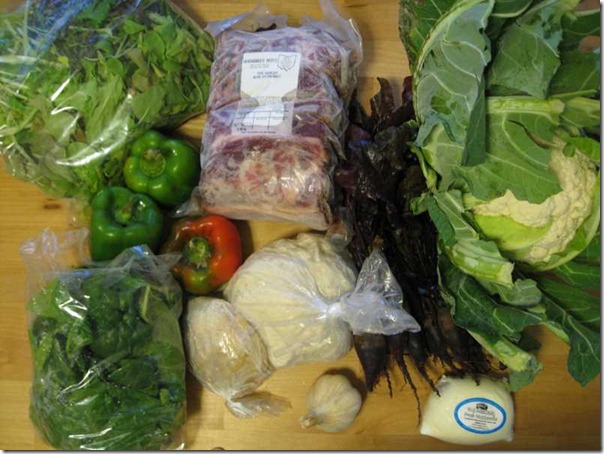 We had our choice between a boneless or bone-in roast.  We chose the bone-in.  It came frozen and will become pulled pork in a couple of weeks.  I saw an appetizer that used shredded pork in a wonton wrapper that I would like to try.  I just need to find whole wheat wrappers or make my own.
We haven't had Harvard beets for a few weeks.  So, these will go into that dish.
I'm thinking we might be having delicious pizza this week.  We got green peppers, spinach, fresh mozzarella, garlic (1 large bulb), and bread dough.  The spinach was a "veggie choice" selection.  Instead of the tomatoes, we got to pick between spinach, onions, potatoes or tomatoes.  I love the spinach!
The mixed greens aren't my favorite, but I know they are good for us.  They'll go well with the pizza.  We haven't had cauliflower lately and it's a family favorite, so it will make a nice side dish over the next couple of days.
Extra are still available at the back of the truck.  We picked up another yogurt ($5).  I haven't decided how much we really use in a week, but it's more than one.  Also, my banana bread recipe uses it and I feel like baking soon.  This winter, I want to try making my own yogurt, but I'm not sure we'll ever get away from buying it.
The winter CSA is a bit more low key than in the summer and we didn't have any line when we arrived just before 5:30PM.  I hope that trend continues as it starts to snow soon!