We slept in a bit today.  Sally was up for more than 2 hours last night (second night in a row).  We are hoping that a new tooth or two appears soon.
Shortly after 9am, the kids and I headed to the JCC.  It was PACKED.  Almost all of the cardio equipment was in use.  I was able to snag a treadmill (barely) before everything was full.  Sunday is the busiest day.  Today, it was raining and I think that added to the crowd.
I don't really care for the treadmill, but I completed 30 minutes.  I also did some plank practice and stretched well.
After lunch, the family made a batch of peanut butter.  We needed some for tonight's peanut tofu recipe.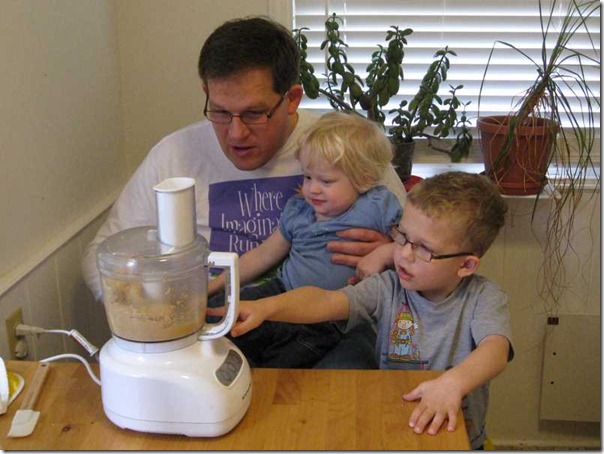 It's so easy.  I'm not sure that I could go back to the jarred kind.
Get out food processor
Add nuts of your preference (we've done peanut, honey peanut and cashew so far)
Process a bit
Add salt, vanilla to taste (about 1/2-1 teaspoon of each)
Process until you reach your desired consistency.
Store in the fridge.
Note: if you want crunchy nut butter, hold some of the nuts out and add them when the butter is closer to the desired consistency.  We use a 16oz bag of nuts and I think our processor is 7 cup so you need to adjust accordingly.  If your nuts are particularly dry and you want more moist butter, you can add a bit of oil.
I love that Nick now says… we need to buy more peanuts because we are out of peanut butter.  I've heard you can grown peanut plants locally.  I'd love to try that this year or next.