Today started out like a regular day.  The kids and I headed to the J and I did a mostly rehab workout.
The workout:
calf raises, 2 sets of 15
single leg balance, 5 times
bridging, 12 times holding for 5-10 seconds each
step ups, 2 sets of 20
ankle pumps, 2 sets of 20+
quadriceps sets, 2 sets of 10 on each leg
straight leg raise, 2 sets of 10 on each leg
triceps, 1 set of 12 at 60, 50, 40, 30 and 20 pounds all in a row
biceps, 2 sets of 12 with 10 pound dumbbells
elliptical for 3 minutes (this felt "ok", but I didn't want to push it yet)
20 minutes in the pool (water bicycling, etc. with a floatation belt)
I'm starting to feel a ton better.  My knee is most sore after kitchen work with the side to side motions.  As long as I don't do lateral moves, it's doing great!  Physical therapy works.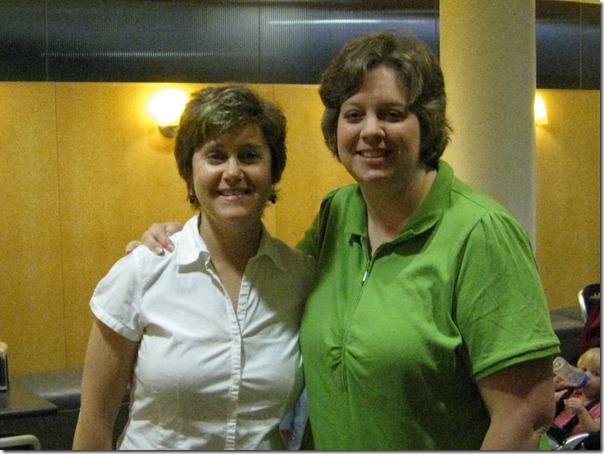 After our trip to the J (and a side trip to get Nick's glasses fixed AGAIN!), we headed to John Carroll University to meet up with Lisa.  She writes a blog called Life After Losing at http://www.itsjustlisa.com/.  She actually went to high school with my husband.  One day he said, I think you'd like this blog and the rest is history!  We enjoyed our packed lunch in the cafeteria with the kids.  We talked about FitBloggin' and blogs and enjoyed our time together.
Next up: day off of planned exercises, but will try to do a few of the physical therapy exercises throughout the day