When it rains, it pours.  We were invited to 2 different Halloween parties today.  We were able to go to one party for a bit and leave early and be fashionably late for the second party.  Everyone had a great time and the kids are exhausted.  Maybe we'll be lucky and they'll both sleep until 7AM.
The host of the first party is an Art Director for her full time job.  Everything detail is always done extremely well!  We arrived just after 3PM.  There were carnival games such as a spider ring toss, Halloween corn hole, penny toss and pin the tail on the black cat.
All of the kids and some of the parents were in costume.  One family game as pirates.
There was a train table which Nick and Sally loved.  There was also plenty of themed food.  Mummy pizza, sunflower butter and jelly sandwiches shaped like pumpkins and bats, a candy board with miniature bags of candy where just a few of the items on the first table.
This veggie tray was done up like a cemetery.  The sweets table had spider treats, eye ball doughnuts and others.
There was a craft table set up with bead necklaces and put a sticker face on paper pumpkins.  Soon enough, we were all outside for the piñata.  Notice the Man in the Yellow Hat.  He came with his sister Curious George.
Everyone took a turn at the piñata.  It finally broke with some adult intervention.
Everything was nicely decorated.  I also remembered to get a photo with the host.
We arrived at the second party around 5PM.  Everyone brought something and we had fruit, veggies, pizza and a couple of desserts for dinner.  The kids enjoyed seeing each other and being all dressed up.
This photo has all of the older kids.
This photo was our attempt at all of the kids including two babies.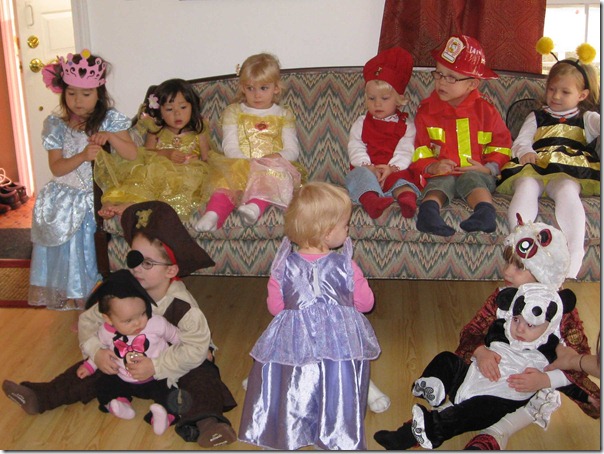 After dinner, there was lots of playing.  Nick was again enamored with the trains.  I see a train table in his future.
We all had a great day!