Christmas Eve went really well for us.  Santa came around 10PM and I was ready for bed.  Unfortunately, Sally was not.  Even though she had been tucked in around 8PM, she was still awake.  Stephen and I took turns trying to calm her down.  It didn't work.  Finally, I went to bed around 11:30PM.  Stephen's Christmas morning started around midnight with an hour long car ride, hoping that would make Sally fall asleep.  They finally made it to bed around 1:30AM.  By 5:30AM, I was up with Sally.   By 6:30AM, Nick was up too.  I went ahead and starting baking the bread pudding that Nick had made the evening before.
We let Stephen sleep until 7AM and then Nick went up to wish him a "Good Christmas Morning".  They came down and we opened some gifts.
The "biggest" gift was a kitchen and a tool bench that friends had given us.  Both Sally and Nick were impressed with the wrapping, which consisted of a blue sheet covering the goods.  Sally thought it was a card table since we usually make card table tents with a sheet in the living room.
We spent the next couple of hours enjoying present opening, bread pudding, enjoying new things and getting ready for a trip to Grandma and Grandpa's house.
We arrived in time for Christmas dinner and then enjoyed opening gifts.  It was fun to have all of the family together.
We surprised mom and dad by giving them a room at a beach house for a week this summer.  I think we have 5 families going in June.  My sister made the card which included a photo of the house and the dates.  It's a joint gift from their kids and covers several holidays (birthday, Christmas, Mother's Day, Earth Day, etc.).  Dad was happy too, but he doesn't show excitement like mom.  I think this is my favorite photo of the day.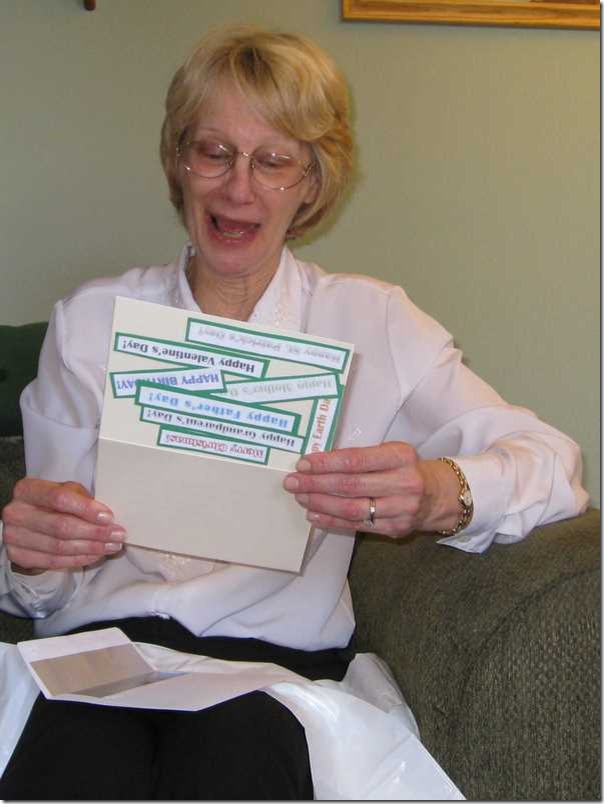 Sally really likes her aunts.  Here's a photo of her with Aunt Holly.  Uncle Frank liked his shirt.  He's studying to be an engineer.
Lily got a "big girl" bike.  She was quite happy.  Carol was perplexed with this gift.  She had no idea that Stephen had got her cheese (and a few other items)!  She loves cheese and was very happy with the gift.
After gifts, we tried to get the kids to nap, played some games and enjoyed our family time.
After enjoying some left overs for dinner, we headed home via some Christmas light displays.  Once home, we used Skype to open gifts with Stephen's parents and brother in Delaware.  Technology is a wonderful thing.
We had a great day!