Last night, we went to the Country Lights at Farmpark.  It was such a great experience!  This post is rather picture heavy.  I had a hard time choosing photos.  We are members of Farmpark, so our tickets were really reasonable.  I think the 4 of us got in for $14.00.  Tickets go on sale in October each year.  We actually bought our tickets several weeks ago.  I think every night sells out each year.  It runs for about 3 weeks.
We were greeted by a snowman family and a swan family.  We arrived just as it was getting dark.
We stopped for a visit with Santa.  We haven't figured out exactly what to tell Nick and Sally about Santa.  So far, they know he's a character and there are stories about him.  They don't know to ask him for stuff and we are fine with that.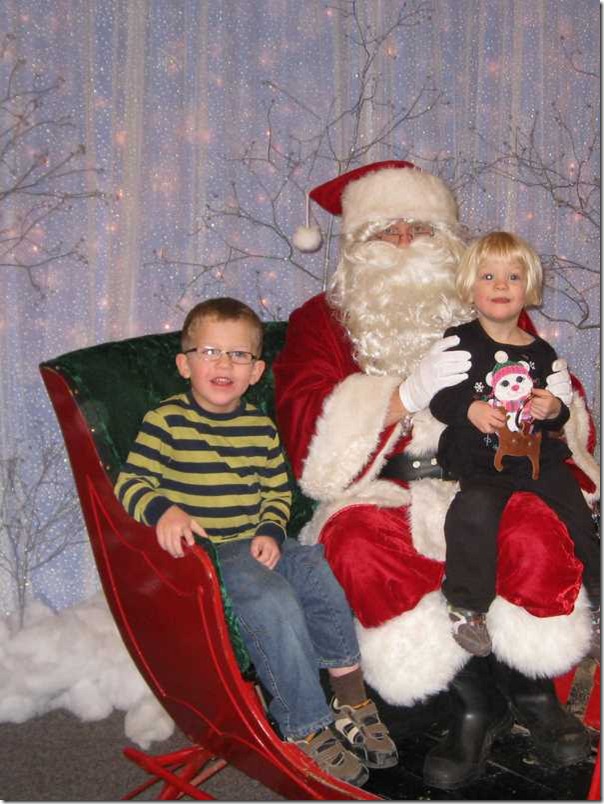 There was a train exhibit in the classroom.  Nick was particularly fond of it.  He even asked a couple of questions.
We had a 6PM time for the wagon ride.  It turns out that we could ride the wagon at anytime.  Next year, we'll know to wait in the workshop line first, then move on to other activities.  I don't have outside photos of the ride since it was dark and the wagon had plastic coverings for wind.  The horse drawn ride took us around the park and there were tons of light displays that were based on nursery rhymes.  It was very well done.  There was a show in the equine center.  We skipped it due to time.  Nick and Sally aren't usually up past 7:30PM.
The elves spend all summer cutting wood for the toys.  There are 50 to choose from.  Each child gets to build one.
Nick picked out the helicopter.  Elf Leigh helped him build it.
Elf Jim helped Sally with her bus.
Then, we moved to the paint station.  Nick was concentrated hard.  Do you notice the nice new "photo ready" shirt.  We realized they had smock shirts right after he got paint on his shirt.  Stephen washed it out in the bathroom when we were done.
Sally picked blue for her bus.  She loved painting!
The glitter station was last.
After the glitter, we laid the projects out to dry.  Everything was so nicely decorated and organized.
Next up was snack time.  The classroom had pretzels, cookies, hot dogs and other light items.
We stopped for a few photos and then headed back to the workshop to collect the mostly dried toys.
I waited with Sally and Nick while Stephen waited in line to have the toys wrapped in newspaper.
Everyone was beat and we escaped without any too tired tantrums.  The car ride home was full of tired happy tears.  We can't wait for next year!