My nephew lives in Maryland.  He's finishing up first grade.  His class recently read the book Flat Stanley.  In a nutshell, Stanley is flattened by a bulletin board.  Since he is now only 1 1/2 inches wide, he fits in an envelope and can travel around the world having adventures.  Everyone in my nephew's class made their own Flat Stanley and sent them off on an adventure.  Nick and Sally were glad to have company here in Ohio.   Here's part one of our adventures.
April 14 – Flat Stanley attended a cheese making class at Mayfield Road Creamery.  He learned about pressing Havarti cheese and checked out the cheese storage room.
April 15 – Flat Stanley went to church with the family.  He listened to band practice and ironed in the play room.
He also played with some tools before making an appearance in Nick's Sunday school classroom.
After church, he headed to Miles Market.  He rode in the cart and picked out some delicious fruit.
April 16 – He visited the JCC playroom and met Miss Deana.  After a quick trick there, he went to Beth's spinning class.
Once he left the J, he stopped at the post office to mail a package.  He loves the post office, but he was glad that it wasn't time for him to leave yet.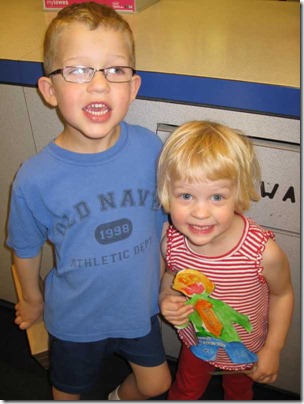 April 17 – He headed back to the JCC and was able to do some needed cement work.  It was back-breaking and a chair massage was in order once he completed his work.
After his massage, he met Mr. Jerrell.  Once he left the JCC, he realized he needed to get an oil change and made a trip to Lube Stop.
After a nap, he decided to build a Lego house.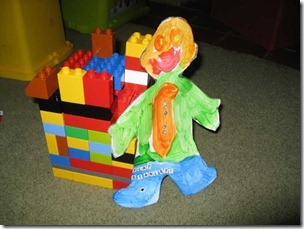 Stay tuned for more about his Ohio adventures tomorrow.