Our friends are still visiting from Italy.  We're so glad they were able to come for 5 weeks this year.  On Wednesday, they met us at Lake Farmpark.
Nick and Sally hung out at the solar tracker while we waited for everyone to gather.  The first stop was a wagon ride.
We rode down to see the animals.  There were still some babies.  But many of them are already growing up.
It was fun to see the girls getting along. Jeanne posed for a photo with the little one.  For the first time, I visited the stables.  I'm not sure why I didn't realize they were there sooner.  We watched this horse get a bath.  He wasn't thrilled.
Outside we stopped to look at more animals before heading up to the main building.  We were a few minutes early for the cow milking, so we stopped in the playroom.
The old kids climbed up the bleachers and waited for the milking.  Nick tried it, but the other two weren't interested.
Little kids that walk together holding hands always makes me smile.  Regardless of exhibits, Nick and Sally are most happy with dirt.
The little one has the most beautiful eyes.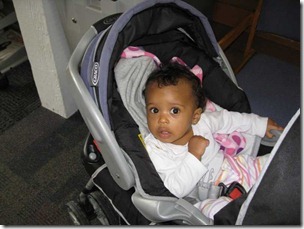 It was fun to spend the day with our friends.  We ended our outing with dinner at Red Robin.  All in all, it was a successful day.