Wednesday evening, Stephen and I had the opportunity to attend the Cleveland screening of The Weight of the Nation, a HBO documentary that will air May 14th and 15th.
It was held at the Great Lakes Science Center.  Stephen walked over from work and we met up outside of the entrance.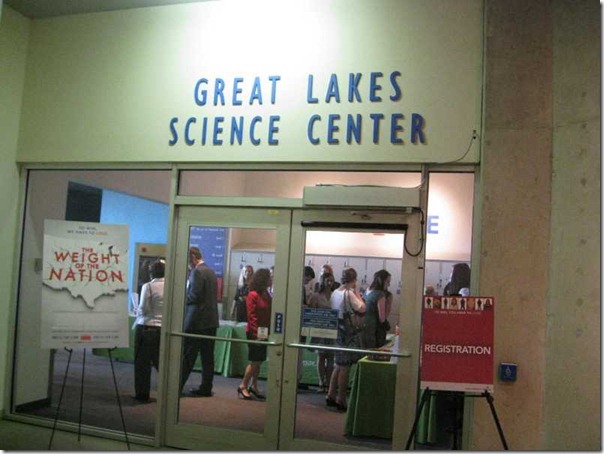 The documentary is all about the obesity epidemic.  There were posted and facts posted around the reception and theatre.
The amazing food was catered by Chef Rocco Whalen's Fahrenheit restaurant.  It was so nicely done.  We got to sample shrimp tacos, chicken tacos, pork and sweet potato, hummus and vegetables and more.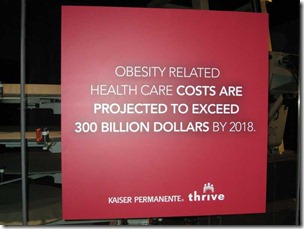 The reception was on the lower level.  I took the escalator up to get an overview photo.
I didn't get a chance to try the smoothies, but I was glad to see a couple of Vitamix blenders.
After the showing of one part of the documentary, there was a panel discussion.  One of the panel members was detained at Reagan National and arrived during the discussion.
We were all given bags upon exiting the theatre.  It's an insulated bag with a water bottle, pedometer and other information.  Stephen and I took the long way to our car to let the traffic die down and get in a few extra steps.
I learned quite a bit about poverty and how it impacts obesity.  I'm looking forward to seeing the remainder of the documentary.  It is very well done.
HBO has asked the cable companies to make the documentary available to all subscribers.  I'm hoping that all works out and we'll be able to watch it.  It airs at 8PM on May 14th and 15th.