April 20 – Flat Stanely went to see the Green Dream at Beachwood Community Center.  First, he stopped by the welcome table for a photo.  He enjoyed a smoothie sample at one of the booths.
He shared an orange creamsicle cupcake from The Mobile Cupcakery.  He stopped by the Junion Achievement booth.  They gave him a nice clear bag with handles.
He spun the wheel at the Chick-fil-A booth.  He won a free chicken sandwich.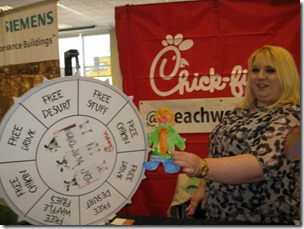 April 21 – He went to a Caring Cubs event at Whole Foods.  He learned about eating the colors of the rainbow.  He also played a matching game about the food groups.
He really liked the cheese station. He got to make his very own cheese person out of pretzels and cheese.
He painted flowers using celery to make designs.  He finished up learning about healthy plates and then drew his own.
April 22 – He went to Earth Fest at the Cleveland Zoo to celebrate Earth Day.  He really liked dancing to the accordion music.  He stopped by the Cuyahoga Valley Scenic Railroad booth and found out about their bike and ride options.
He loved the model of the rocket ship at the NASA booth.  It was cold and dreary, but Nick and Sally still had fun taking him climbing rocks.
He especially liked trying a green smoothie at the Vitamix booth.  He bought me a Vitamix before he left town.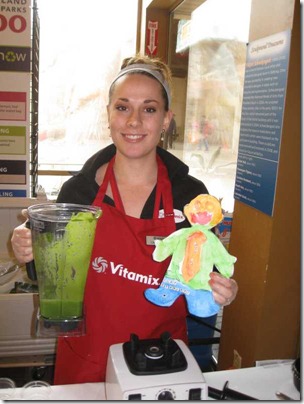 May 2 – With all of the photos printed and put into a book, it was time to pack Flat Stanley in his travel box.
We dropped him off at the post office.  He should be visiting my nephew's classroom by Friday or Monday.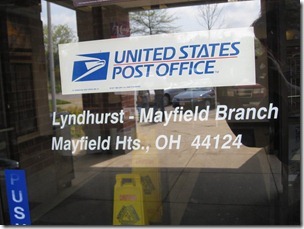 We had a great time having Flat Stanley visit.  It was kind of like being on vacation.  So, now we're getting back to reality.