Tonight's dinner was pizza with all of the ingredients courtesy of our Fresh Fork CSA.  Many weeks our CSA bags are themed.  Some weeks I just use all of the ingredients in whatever I am cooking that week and other weeks, I use many of the ingredients in one dish.  This was one of those weeks.
For our pizza, I used the following:
pizza dough
Pope's sauce (tomatoes, oregano, basil, thyme, parsley, garlic, olive oil, salt, black pepper)

I love that the sauce doesn't have any SUGAR!

Mayfield Creamery Gouda
spinach
ramps

I'm sad that ramp season is over.  I'm going to chop and freeze my last few.

green peppers (from the freezer from last summer)
Italian sausage
We actually got smoked Gouda in our bag this week, but I didn't want to overpower the other flavors, so I used regular Gouda from my fridge.  We have quite the stock of local cheeses at the moment.
I also used my pizza stone for the first time.  It was a bit challenging, but I think I just need more practice.
Here was the final result: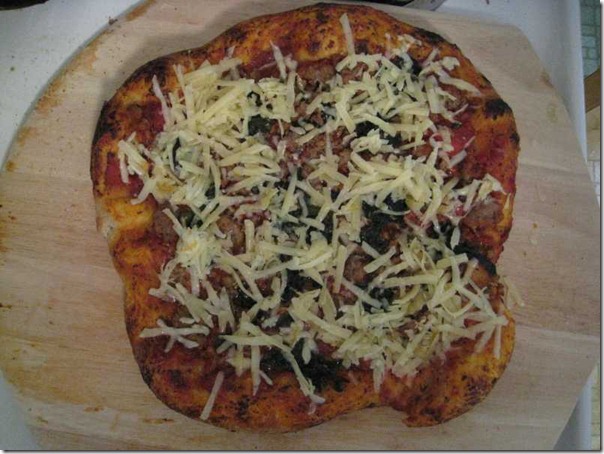 Since the pizza stone needed to heat in the oven for 30 minutes, I had that time to prep the other ingredients.
I browned the Italian sausage.  I washed and chopped the spinach and ramps.  I chopped the peppers a bit finer (they were frozen in bigger pieces than I needed for the pizza).  I drained the sausage on a paper towel and used residual grease to sauté the ramps, spinach and peppers.  Everything had a few minutes to cool before I put the pizza together.
Once the pizza was in the oven, I grated the cheese.
In just over 10 minutes, I took the pizza out of the oven and sprinkled on the cheese.
The end result was total deliciousness.  It was really one of the best pizzas that I've ever had.
I'm not sure if it was the sauce, the cheese, the dough, the toppings or the combo.  But, it was great.
Now, I'm off to see if I can get more of that yummy sauce!