Today was the 4th pick up for the winter Geauga Family Farms CSA.  Stephen took the kids for the pick up while I made a quick Kohl's trip.  We met up back at home where I quickly photographed before we headed to the Cleveland Museum of Natural History.  Ironically, I had a class about sustainable eating and supporting the local food movement!
Here's a group shot of what we received: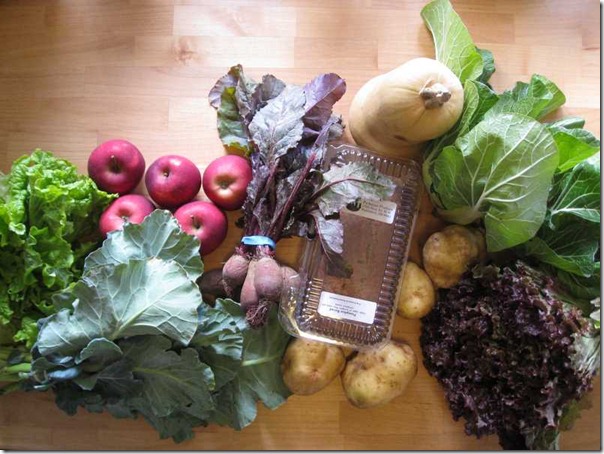 Let's take a closer look:
Leaf lettuce, apples
Loaf of pumpkin bread, potatoes
Butternut squash, red leaf lettuce
Bok choy, collard greens
Beets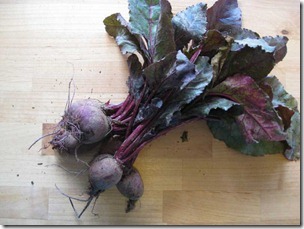 Aside for some mandarin oranges from yesterday's Whole Food sale, a few potatoes and a couple of onions,  we were out of everything fresh.  So, today's pick up was welcome in our fridge.
Both of the lettuces will go into salad.  I'm thinking of using some leftover chorizo and beans and making some type of Mexican inspired salad.  The apples will go into oatmeal.  When we have apples available, we use them in our oatmeal.  The rest of the time we use frozen or home-canned fruit.
Half of the pumpkin bread is already gone.  It's extremely good.  We'll have the potatoes as part of dinner one night this week.  Since butternut squash is one that can be peeled, I'll probably roast it in chunks with cinnamon, pepper and olive oil.
I've been making Asian bok choy for Stephen with garlic and sesame oil.  He seems to like it and it gives him an Asian dish.  Sesame is not really my thing.
I haven't decided on a collards dish yet.  We've tried several.  It's still hit or miss on whether we like the end product.  Clearly, I need a consistent go to recipe for them.
We haven't made Harvard beets lately, so I'll be making them this week.
Originally, we were supposed to get eggs each week.  They have new chickens and the production has not been as anticipated.  I was surprised that we didn't get them this week since we didn't have a pick up last week.  But, I have more than a dozen left from our other CSA, so we aren't out yet.
We also placed an add on order for a half gallon of local maple syrup ($25).  I've been reading up on making maple coated pecans and some eggnog type of beverages that used maple instead of sugar, so I thought we should stock up.  It's hard to believe that new maple syrup will be available in less than 4 months.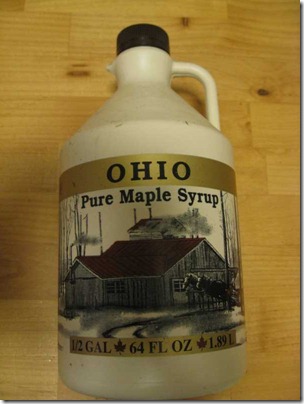 It's nice to be stocked back up on fresh items.  It's hard to believe that there is only 2 weeks left of this short winter CSA.